Outdoor Fireplace Rules
Outdoor fireplaces can be mesmerizing in their beauty and mystique. Fireplaces are also extremely dangerous and can pose a threat to life and property. The two main areas of concern the rules target are pollution and fire hazards.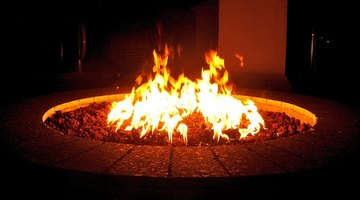 To determine the rules governing your outdoor fireplace, check at every level: Homeowners associations, towns, counties, cities, and states.
No Easy Answers
Local ordinances govern construction and use of outdoor fireplaces. Homeowners would be wise to start at the most local level and move up to figure out what is and is not permitted.
Fireplaces are beautiful, warm gathering places outdoors for friends and family. Fireplaces are also hazardous and add air pollutants to the atmosphere. It is the dangers that local rules, regulations and guidelines attempt to address.
There are many types of outdoor fireplaces, and the rules are different for the various types and their uses. Outdoor fireplaces run the gamut from table top models to fire pits, to metal bowls, to chimeneas, to free-standing masonry. Do not take for granted that your outdoor fireplace complies with local rules just because it is for sale in an area store or you found a contractor to build one for you.
Fire Safety Issues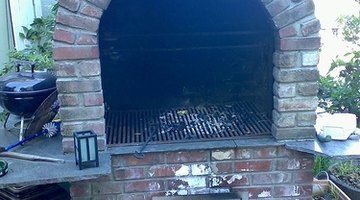 Fire safety is the overriding concern in New York, New York, and Kettering, Ohio. New York prohibits open fires, although the rules seem to allow a free-standing masonry fireplace with a chimney. New York's fire code, section 302, defines an open fire as "burning of materials wherein products of combustion are emitted directly into the ambient air without passing through a stack or chimney from an enclosed chamber." This open fire prohibition prevents homeowners from using those wood-burning fire pits, sold by most home improvement stores, in New York backyards.
Kettering, Ohio, permits outdoor fireplaces if they burn "clean dry wood" and are located at least "15 feet from a structure or combustible materials." Kettering's fire code also states that the "fire must not create an offensive or objectionable condition that interferes with the neighboring residents' use and enjoyment of their property."
Inquire at your nearest fire house to learn the exact rule or to get a lead on where to get more information.
Air Quality Issues
In places such as Denver, Colorado, and Anaheim, California, air quality concerns dictate when outdoor fireplaces may be used. Under California's fire code, chimeneas and fire bowls are allowed to be used without a permit, except in a few restricted areas. Permanent structures must meet building code requirements. In both Colorado and California, burning wood in fireplaces is restricted on days when particulate matter is expected to be high.
As air quality concerns grow throughout the nation, it is reasonable to expect more municipalities to adopt such measures. Consider whether your governing entity is planning to adopt similar regulations before investing heavily in an outdoor fireplace that you may not be able to use when you want to use it. Check relevant websites and watch for notices to find the days wood burning is prohibited for your location.
Resources
Writer Bio
Lee Roberts has written professionally in different capacities throughout her career. She has written for not-for-profit and commercial entities since she received her Bachelor of Arts in sociology from the University of Michigan in 1986. She is currently writing an extensive work of fiction.
More Articles