Corian Vs. Silestone
Table of Contents
Corian and Silestone are two of today's most popular prodcuts used for countertops. Corian is 100 percent plastic, or a solid resin countertop designed to resemble marble. Developed by the DuPont Company for hospitals, Corian has been available for decades.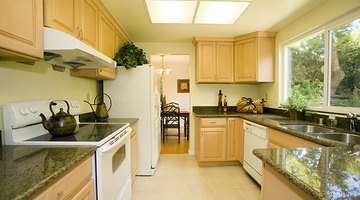 Silestone, a newer product in the home improvement market, is a composite material consisting of 94 percent quartz and stone and 6 percent plastic. The primary difference between the two is the visual appearance or how it is perceived by the beholder.
Corian
Corian was developed as a synthetic material to resemble marble for hospitals and homeowners. A solid surface countertop, it is easily molded, damage and stain resistant, and is now available in more than 80 colors. Because Corian is 100 percent plastic, it is cast in a sheet and can be made seamless. This is a feature unavailable in Silestone. Though it can be damaged by sharp knives or hot pans, Corian is also easier to repair than granite or Silestone counter tops
Silestone
All natural granite is a mixture of several stones: quartz, feldspar, perhaps mica. Silestone is an "engineered stone" with the appearance of granite with embedded quartz crystals for a unique shimmer. An Italian company discovered a creative way to mold the almost useless chips and grit from a stone quarry by mixing them with plastic to bind it together and created plastic rock. The unique sparkle that Silestone has is due to the quartz additive that annot be duplicated by Corian or any other resin counter top manufacturer.
Differences
Corian, even with 80-plus colors, has a limited color palette while Silestone has an unlimited range of colors and patterns, depending on the stone or stones used. However, only Corian can be made to be a desirable solid white color. Corian may be subject to damage where Silestone is impervious to nicks scratches, dents heat burns and chemical spills.
Similarities
Both materials are similar solid surface materials due to the plastic used to make them formable, stain resistant and resilient substances, even though Silestone is 94 percent crushed rock. Whatever their differences, Corian and Silestone are similar simply because of plastic. Despite marketing claims, there is no significant difference in performance, cleaning, function or price between the two. Both products are resistant to bacteria and both are easy to clean and maintain.
Warnings
No matter which material is used for a counter top, always protect it by using cutting boards and hot pads.
Plastics, including counter tops, are extremely toxic in if they catch fire. Use caution.
References
Writer Bio
Lynn Star has a BA in Communications, is a 20+ year professional in real estate, tax analysis and preparation, and an in-depth researcher of any topic that catches her interest. She is also an avid do-it-yourselfer in home improvement, crafts and green technologies.
More Articles