Acrylic Countertop vs. Laminate
Laminate countertops, such as Formica, have specific advantages and drawbacks when compared to acrylic countertops, commonly called solid-surface countertops.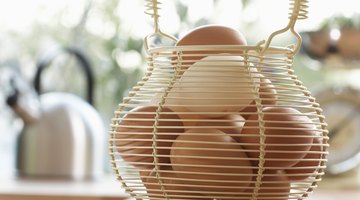 A household considering which type of countertop to install must take into account their budget, their aesthetic expectations, and the amount of expected wear and tear the surface may receive.
Price
The greatest advantage laminate countertops have over acrylic is their price. Laminate countertops can be purchases for a fraction of the cost of solid surface countertops. Installation is also cheaper, and can often be done by the homeowner. Although laminate will need to be replaced sooner than other varieties, it is also cheaper to replace. The disadvantage of laminate is that it also has a "cheaper" appearance, looking more "plastic" than acrylics.
Durability
Acrylic countertops last much longer than laminate varieties. They are highly resistant to stains and scratches. Laminate, on the other hand, can be easily gouged by sharp objects--especially non-textured gloss finish varieties of laminate. A hot surface will do little or no damage to acrylic countertops, but can significantly scorch a laminate countertop, causing a whole section to have to be replaced.
Maintenance
Both acrylic and laminate countertops are nonporous, easy to clean, and do not require regular sealing. The wear and tear on laminate countertops, nonetheless, is much more difficult to fix. Acrylic countertops consist of a solid color throughout the material. If it gets scratched or gouged the mark can be scrubbed with an abrasive cleaner and removed. To repair gouges in laminate, however, a section of the material must be removed and replaced.
Installation
Laminate is a more flexible material and easier to install than acrylic. It can often be installed by homeowners, cutting down costs. Laminate countertops can also be purchased from hardware stores and home centers that are post-formed for your kitchen. Although post-formed laminate countertops are much more expensive per square foot, they are still generally cheaper than acrylic countertops. Acrylic countertops must be installed by contractors.
References
Resources
Writer Bio
Clayton Yuetter has worked as a professional writer since 1999. His writing has appeared in many journals and websites such as The Milk House, The Country Folks, Progressive Dairyman and Three Times Daily. He received a Master of Arts in writing at the National University of Ireland, Galway.
Photo Credits
Martin Poole/Digital Vision/Getty Images
Martin Poole/Digital Vision/Getty Images
More Articles