How to Dispose of Mattresses
Disposing of a mattress that has seen better days isn't always easy. Every municipal waste agency and garbage company has specific rules regarding large items, such as appliances, couches and mattresses.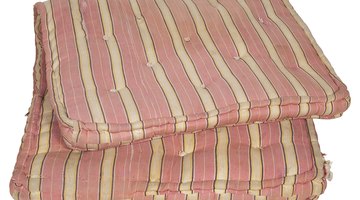 While specific details vary, there are three main methods of disposing of a mattress -- call for a bulk pickup, drop it off at a waste facility, or if it's still in good usable condition, donate it to charity.
Bulk Pickup
Many waste management and garbage companies have a bulk pickup option. You can phone and request a pickup of a mattress. In some areas, you get a free pickup within a set time period, while in others you may be charged a small fee. Some garbage companies, such as New York's Department of Sanitation, will pick up a mattress at the curb, but it must be sealed in plastic to prevent the spread of bedbugs.
Drop It Off
The local waste management agency generally has a central drop-off location for bulky items. There may be a fee. It may also sponsor specific drop-off days, where a copy of your garbage bill and photo ID allows you to drop off one or more large items at a convenient location.
Donate It
A mattress in clean, unstained condition without tears may be donated to a local charity. Call ahead before going to the donation drop-off to ensure that the charity accepts mattresses. If it's in less than perfect condition, a mattress recycling facility may accept it and recycle the metal springs, foam and wood frame.
References
Writer Bio
With degrees in fine and commercial art and Spanish, Ruth de Jauregui is an old-school graphic artist, book designer and published author. De Jauregui authored 50 Fabulous Tomatoes for Your Garden, available as an ebook. She enthusiastically pursues creative and community interests, including gardening, home improvement and social issues.
Photo Credits
Hemera Technologies/PhotoObjects.net/Getty Images
Hemera Technologies/PhotoObjects.net/Getty Images
More Articles