How to Make a Lap Tray
This DIY lap tray can double as a functional and decorative storage solution for your home year-round.
Things You'll Need:
Wood board
Measuring tape
Pencil
Sandpaper or palm sander (optional)
Radial saw (optional)
Wood stabilizer (optional)
Cabinet pulls & hardware
Screwdriver
Step One
Making the tray is a matter of choosing wood style, size, finish and handles — all of which can be determined by your unique tastes. Whatever wood you decide on, your local hardware store will most likely make any measured cuts you want for a nominal fee if you don't have access to a saw at home.
Step Two
If cutting at home, use a radial saw to make a 21" x 11" rectangle, which is a good size for a full plate and other breakfast essentials.
Step Three
Once cut to desired size, upgrade the finish by first sanding each of the sides, edges and surfaces with a palm sander.
Step Four
After sanding, brush a generous coat of wood stabilizer over the entire board. Wood stabilizer not only brings out the rich tones of the wood grain without lacquer, but it also prevents wood from checking, cracking and warping and will also rejuvenate old, dry wood.
Step Five
Allow the wood stabilizer to soak into the wood and dry fully according to package instructions. While the difference is slight, you can see how the wood stabilizer treated board compares to the untouched board, bringing out the natural wood grain.
Step Six
Once the stabilizer dries completely, install the cabinet pulls on either end of the tray with a 1/2-inch overhang.
Step Seven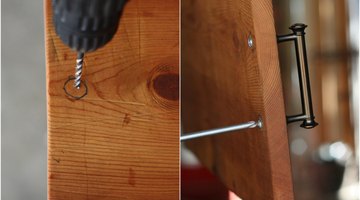 If using cabinet pulls that screw seamlessly into each end of the bar, measure their placement on the underside of the tray first. Trace around each bar end where the screws will go. Drill holes through the board with a drill bit large enough to push the screws that came with the cabinet pulls tightly through the board, then screw each pull securely into place using a screwdriver.
Step Eight
Once the handles are fixed into place, the tray is ready for use.
Step Nine
If using as a breakfast tray, decorate with a few surprises like fresh strawberries, flowers and a handwritten note to complement a favorite meal.
Step Ten
Take advantage of this tray's versatility by using it as a coffee table or ottoman tray. It could even double as a lap tray for your laptop while lounging about.
Writer Bio
Mary and Tim Vidra, the creative couple behind the lifestyle blog 17Apart.com, live and work in Richmond, Virginia. Both do-it-yourselfers by nature, they are continually in search of simple solutions for living more sustainably — sharing their ideas, tips and tricks for DIY home decor, urban gardening and cooking.
Photo Credits
Image by Tim & Mary Vidra
Image by Tim & Mary Vidra
Image by Tim & Mary Vidra
Image by Tim & Mary Vidra
Image by Tim & Mary Vidra
Image by Tim & Mary Vidra
Image by Tim & Mary Vidra
Image by Tim & Mary Vidra
Image by Tim & Mary Vidra
Image by Tim & Mary Vidra
Image by Tim & Mary Vidra
Image by Tim & Mary Vidra
More Articles