What Height to Mount a Mantel?
Aesthetics and fire codes merge to make mounting a mantel tricky business. You don't want your mantel to catch on fire, but you want to have enough space to hang your favorite art piece, mirror or flat-screen television above it.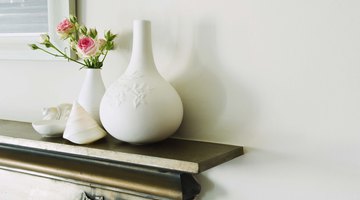 By taking a few things into consideration, you will have your new mantel exactly where it looks the best.
Fire Codes
Check your local fire codes for mantel heights before breaking out the drill and finishing nails. These vary by location, but depend on mantel composition and depth. According to the National Fire Protection Association, all combustible materials (woodwork, trim, mantels, etc.) must be at least six inches away from the fireplace opening. Combustible material with a depth more than 1.5 inches should not be mounted less than 12 inches from the top of the opening of the fireplace. You measure from the top of the fireplace opening to the bottom of the breast of the mantel (not the top of the shelf).
Instructions and Warnings
Read the instructions and warnings with your new mantel and the heating element of the fireplace (i.e. if you recently purchased a gas fireplace). Sometimes your local fire codes will call for a certain distance, while the manufacturers require more distance between the opening and the mantel. Always go by the safety requirements of the manufacturer to keep your home safe. Depending on the type of materials and finishes on the mantel, you may need to put as much as 24 inches between the opening and bottom of the mantel.
Aesthetics
After you meet fire code requirements and take heed to the warnings and instructions of the products, you may have some space to tinker with different heights. Take into consideration the height of whatever you want to place above it. Hang the painting before you mount the fireplace to see where the mantel would look the best between the fireplace and your decorations. According to the Journal of Light Construction "Mantel Height" forum, mantels generally end up being 54 to 60 inches from the floor to the top of the mantel, though different architectural styles and room sizes may call for a shorter or even taller mantel.
References
Resources
Writer Bio
Heather Webb Oney graduated from Morehead State University in 2009 with a bachelor's degree in journalism. While at MSU, she wrote for the "Trail Blazer" and the media relations office. Since 2010, she has been the editor of the "Salyersville Independent."
Photo Credits
Jupiterimages/Polka Dot/Getty Images
Jupiterimages/Polka Dot/Getty Images
More Articles