How to Remodel an A-Frame House
You've recently purchased a charming little A-frame house in a lovely wooded setting. Although you think the cabin has tremendous potential, it was built and furnished as a rustic vacation home with few modern amenities.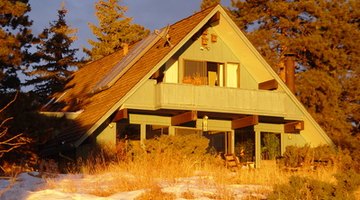 Things You Will Need
List of local architects familiar with A-frame home design
Proposed remodeling plan for architect
Building permits
List of licensed contractors in your area
Budget for entire remodeling project
Budget for each portion of the project
List of supplies for project
List of licensed professionals
Besides revamping the decor with modern fixtures and furnishings, you plan to build an addition and structurally modify the interior. Before you take demolition tools to the house, however, you wisely decide to consider the ramifications of your remodeling job.
Meet with an architect. Your proposed remodeling plan may include room redesign, moving of walls and other structural work. Because these actions may affect the character and structural integrity of the A-frame house, show your plans to an architect experienced in A-frame home design. Ask her to evaluate your ideas as they affect wall and beam load factors. Locate an architect through The American Institute of Architects.

Make sure you're legal. Before any work begins, call your city's planning and zoning department to ensure that your proposed project doesn't violate any zoning ordinances. In addition, contact your community association to ensure that the remodeling work won't conflict with local regulations or covenants.

Decide who will perform the job. If you're experienced in home construction, you may want to tackle the remodeling job (including pulling the building permits). If that's not the case, call a licensed contractor to secure your permits, perform the work and oversee subcontractors. To find a licensed contractor, or to verify that a contractor is licensed in your state, visit the Contractor's License Reference Site.

Develop a budget. Put your plans to paper (or spreadsheet), and compile cost estimates for the various portions of the remodeling project. Include professional fees for electricians, plumbers, masons and others. When budgeting for supplies, estimate on the high side. For example, you can return unopened boxes of tile you didn't need at the end of your flooring job. If you run out of tile in the middle of the project, however, your time line will be interrupted and similar tile may not be available.

Choose where you will live. Regardless of the scope of your remodeling project, the work will generate dust, debris and clutter in your house. Decide whether you want to live in the middle of the chaos or if it's more practical to move into a rented home or apartment until the job is complete.

Line up the supplies and staff. If you're handling the project yourself, order your supplies according to the project time line. If you need extra labor, or professionals such as plumbers and electricians, schedule those workers in advance.

If you have hired a contractor, make sure he has everything he needs for each portion of the job. Depending on your contract, time spent at the home improvement store for last-minute supplies may cost you extra money.

Keep the project moving. If you're handling the project, it's easy to get sidetracked while the piles of supplies and debris go untouched. If you have a contractor, he may have a finite amount of time available for your job. Keep the project on schedule so you can enjoy your beautifully remodeled A-frame home.
References
Writer Bio
Based in North Carolina, Felicia Greene has written professionally since 1986. Greene edited sailing-related newsletters and designed marketing programs for the New Bern, N.C. "Sun Journal" and New Bern Habitat ReStore. She earned a Bachelor of Science in business administration from the University of Baltimore.
Photo Credits
a frame image by Earl Robbins from Fotolia.com
a frame image by Earl Robbins from Fotolia.com
More Articles