How to Put Wallpaper on Formica
Many older homes have Formica panels on kitchen and bathroom walls that give the room a dated appearance. If you cannot afford to replace the Formica with textured drywall, you can still update the room by applying wallpaper to it.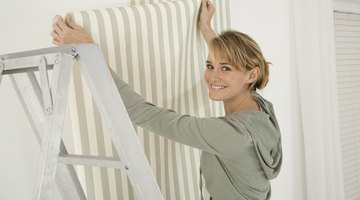 You can purchase printed wallpaper, wallpaper in solid colors or wallpaper that mimics drywall texture and can be painted. This wide variety will allow you to achieve any look you desire. For the wallpaper to properly adhere to the Formica, you must follow certain installation steps.
Things You Will Need
Dish washing liquid
Quart-sized spray bottle
Sponge
Spackling paste
Plastic putty knife
Orbital sander
Fine-grit sandpaper
Acylic-based wall primer
Wallpaper paste
Sponge brush
Roller brush
Straight edge
Utility knife
Combine a quarter-cup dish washing liquid and warm water into a quart-sized spray bottle, shaking the bottle to mix the contents. Spray the Formica with the cleaning solution and wash with a sponge. Rinse the Formica with cool water and allow it to dry completely.

Patch holes, cracks and other imperfections or fabricated dips in the Formica with spackling paste. Place a small amount of spackling paste on the end of a plastic putty knife and press the paste into the hole. Allow the paste to dry completely.

Sand the Formica with an orbital sander and fine-grit sandpaper until it is smooth to the touch. Make sure all the patched areas are level with the rest of the Formica. Wipe the Formica with a damp sponge to remove sanding dust and allow it to dry completely.

Paint the Formica with an acrylic-based wall primer. Allow the primer to dry for at least two hours.

Measure the first section of wallpaper for installation, allowing for 1 inch of extra wallpaper at each end.

Apply wallpaper paste to the back of the wallpaper with a sponge brush and allow the wallpaper to sit until the paste becomes tacky.

Place the wallpaper on the Formica and smooth it into place with a roller brush or dry sponge. Cut the extra wallpaper at the ends using a straight edge and a utility knife.

Continue measuring and installing wallpaper on the Formica until you have completed the project. Allow the wallpaper to dry overnight before placing objects on the surface or hanging pictures.

Warning

Wear a mask and safety glasses when sanding Formica.
Writer Bio
Kaye Morris has over four years of technical writing experience as a curriculum design specialist and is a published fiction author. She has over 20 years of real estate development experience and received her Bachelor of Science in accounting from McNeese State University along with minors in programming and English.
Photo Credits
Jupiterimages/Goodshoot/Getty Images
Jupiterimages/Goodshoot/Getty Images
More Articles