Homemade Car Rust Remover
Rust appears on a car as a result of metal mixing with moisture and oxygen. A dent to the car can result in rust if the paint is removed. While there are many commercial rust removers on the market that are effective, they are also toxic. There are safer options for removing small rust stains on the car.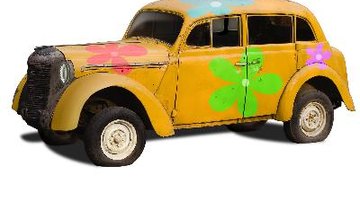 Use Force
One of the first ways to remove rust is to scrap it off with a scrubbing pad or steel wool. These abrasive substances remove the surface rust, but with some elbow grease, you can remove much, if not all, the rust stain. Another option is to add mineral oil to the rust stain, let it soak for awhile, then use the scrubbing or steel wool. Sand off the rust with an electric sander or sandpaper suggests the article "Removing Rust Stains from Tools" on the Thrifty Fun website.
Use Salt and Lemon Juice
Lemon juice is also helpful in removing rust stains. The lemon juice has citric acid, which helps to wear away the rust stains. Most commercial rust removers have an acid, such as oxalic acid. But lemon juice is mild. Another option suggested by the Thrifty Fun website is to make a paste of salt and lemon juice. Add 1 tbsp. of lemon juice to salt. Apply the paste to the rust stains on the car. Allow it to sit for a few minutes. Then scrub the rust away using a scrubbing pad.
Use White Vinegar
Vinegar is also a useful homemade rust remover, said Kath Beswick in her article "How to Create a Homemade Rust Remover" on the Edubook website. Beswick suggests putting the white vinegar in a spray bottle and completely saturating the rusty areas of the car. Using a pad, scrub the vinegar into the rust stains. Then spray more vinegar on the area. Wait 30 minutes then wipe the area. Most, if not all, of the rust should be gone. If not, repeat the process.
Use Borax
Another homemade rust remover is borax, Beswick said. Mix the borax with 3 tbsp. of lemon juice to make a paste. Apply the paste to the rust stains. Let it sit, and then wipe it away with a cloth or paper towel.
"This solution may take a few tries before you see results," Beswick said.
Beswick said the rust remover is safe around pets and children.
References
Photo Credits
old yellow car image by DEMIX from Fotolia.com
old yellow car image by DEMIX from Fotolia.com
More Articles