How to Clean Black Marks off an Old Linoleum Kitchen Floor
Cleaning up old black marks on a linoleum kitchen floor can be difficult, and may seem impossible. There are however, a few remedies that can clean the black mark easily and quickly.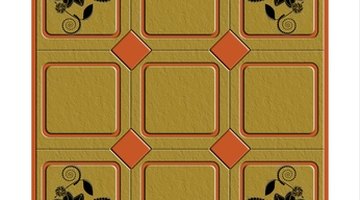 Things You Will Need
Toothpaste
Soft cloth
Baking soda
Sponge
Tennis ball
Drill
Large drill bit
Broom handle
Erasers
So before you end up covering up the black marks with an area rug, or even worse, new flooring, consider some simple options for cleaning that linoleum floor in your kitchen.
Apply about 1 tsp. of toothpaste to the black mark. Rub with a soft cloth until the mark disappears. Repeat if necessary until the mark is gone. Make sure the toothpaste is the paste rather than the gel type.

Apply about 1 tsp. of baking soda to the black mark and rub in with a sponge. Repeat until the mark is gone.

Drill a hole into an old tennis ball. Insert the end of a broom handle into the tennis ball. Work over the area of the black mark with the tennis-ball broom. This will remove the mark without you having to bend over.

Erase the marks with a regular eraser you would purchase in a school supply store.
References
Writer Bio
Valery Elias has been writing professionally since 2009. Her work has appeared in the "Savannah Business Journal," and she has experience as an independent secretarial contractor, proofreader and executive sales assistant for Fortune 500 companies. Elias has a Bachelor of Arts in English and American literature from the University of South Florida-Tampa.
Photo Credits
texture floor image by Oleg Verbitsky from Fotolia.com
texture floor image by Oleg Verbitsky from Fotolia.com
brush with toothpaste image by Keith Frith from Fotolia.com
country kitchen nuts flour and sugar image by Stephen Orsillo from Fotolia.com
tennis ball image by Ramona smiers from Fotolia.com
pencil and eraser image by Alexey Klementiev from Fotolia.com
More Articles