Types of Stone for Houses
Stone is a versatile and cost effective building material. Fieldstone, granite, and creek stones are attractive as wall construction or as a veneer. You can purchase colonial wall stone in thin slabs or as heavy wall stone for a classic traditional look.
Building with stone offers distinct advantages in appearance and cost savings. Stone walls made of creek stone or fieldstone make the house seem a more natural part of its environment, and thick stone walls keep a house much cooler in summer.
Fieldstone
Fieldstone is a classic building material. Many homes are built with fieldstone walls topped by cedar planking or cedar logs for a more rustic look. Fieldstone is also a good material for constructing fireplaces and chimneys.
Fieldstones are rocks found in fields and pastures. Each year, after the winter snows disappear, the field has stones in it that were not there in the fall. The action of frost causes stones to rise to the surface of the ground. Farmers in New England used these stones to build house foundations and sturdy fences.
Colonial Stone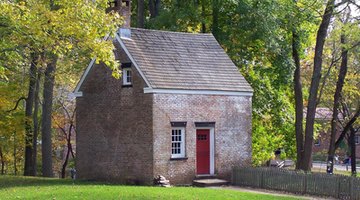 While fieldstone is reclaimed from fields and pastures, colonial stone comes from quarries. The irregular stone is shaped into flat pieces for wall construction. Colonial stone gives a wall a neat sculptured look and is available in small sizes for wall veneers or in heavy pieces for wall construction. Pennsylvania Bluestone is often used to make colonial wall stones.
Colonial stone walls are mortared and reinforced with steel straps. Every sixteen inches of stone applied to the wall is anchored with steel straps which angle up and are fastened to the wood behind the stone for support, which helps to prevent the stone from sagging or falling.
Granite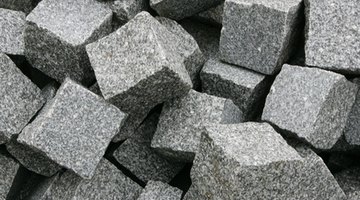 Granite is a common building material because it comes in several different colored varieties. Granite wall stone is quarried and cut into pieces for wall and veneer construction. Granite building stone is available in several forms. You can cover a house with thin granite shingles, rough cut granite blocks or finish with a mosaic granite veneer.
Stone wall covering is often used as a facing over concrete masonry walls. The granite or other stone is mortared in courses and fastened to the masonry with reinforcing steel strips. Granite roofing tiles are also used in some areas.
References
Writer Bio
Ronnie Daniels writes content for blog, website and print publication. Writing professionally since 2007, Daniels has been published on various websites and offline in "Mirror Mirror Magazine." Constantly improving his craft and writing better articles and stories has become Daniels' goal in life.
Photo Credits
stone house image by michael langley from Fotolia.com
stone house image by michael langley from Fotolia.com
Wegesrand image by Jörg Finger from Fotolia.com
colonial building image by Andrew Kazmierski from Fotolia.com
granite image by Andrzej Solnica from Fotolia.com
More Articles