Anatomy of a Kitchen Sink
Table of Contents
The kitchen sink used to be a necessary evil where hours were spent washing dishes and pans, cleaning food and cleaning up. Today, kitchen sinks are just as much about design and style as functionality. The anatomy of the kitchen sink tells much about how it satisfies both requirements.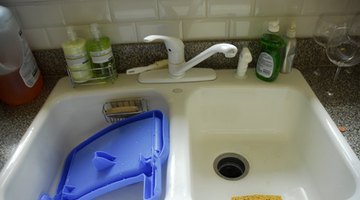 Material
Sinks come in several common materials and many uncommon ones. Stainless steel is chosen by people looking for durability, value and easy installation. You can get acrylic sinks in many colors and patterns to complement the other features of the kitchen. Farmhouse kitchen sinks have become popular and they may be made from many different types of natural stone, metal and porcelain. Some come in marble while others are made of other stone types like travertine and granite. Copper, brass and aluminum are popular metals used for farmhouse sinks. The fronts of these sinks are often carved with designs.
Configuration
Early kitchen sinks had just one compartment, but starting in the mid-20th century a second compartment was added. Today it is not uncommon to find sinks with three compartments. One compartment is reserved exclusively for washing foods while the other compartments are used for rinsing and washing dishes, utensils and cookware. Many farmhouse sinks still only have one compartment, to remain more authentic to the style of that bygone era. Kitchen-sink compartments may all be the same size, except in three compartment sinks, or the sizes of the compartments might be different with a smaller one acting as a drain board.
Another configuration aspect is the number of holes, or knockouts, available for adding faucets, sprayers, soap dispensers, instant hot water heaters and water purifier taps. Most sinks come standard with three holes, but four holes and five holes are increasingly available.
Mounting Style
Top-mounted sinks are the most prevalent, but under-mount sinks have become very popular. These kinds of sinks mount below the counter surface, eliminating the lip that is present when the sink mounts from the top. Top-mounted sinks are easier to install.
Faucet
The variety of kitchen faucets from which you can choose to make the perfect match for your kitchen sink is mind boggling. The days of the single, swivel faucet with a hot-water knob on one side and a cold-water knob on the other are waning. Those types of faucets are still sold, but new styles are more sought after by those seeking just the right look. High-rise faucets are popular and functional. They place the source of the water well above the sink so there is ample room to get pans and large pots beneath them. Other types of popular faucets have faucet tips that pull out and act as sprayers, or have separate sprayers that mount to one side or the other.
Drain
The water needs to eventually flow out of kitchen sinks and that's where the drain comes in. Each kitchen sink compartment has its own drain hole where the fitting attaches so the sink can be connected to a drain pipe. Kitchen sink compartment drains might be in line with each other, or they might be offset.
References
"Black & Decker Complete Guide to Plumbing;" Creative Publishing; 2008
Photo Credits
kitchen sink image by jedphoto from Fotolia.com
kitchen sink image by jedphoto from Fotolia.com
More Articles