How to Clean a Steel Pipe
Steel pipes are used in many different ways both for commercial and personal use. Cleaning a steel pipe is a three part process. You clean the inside of the pipe and the outside. You then finish the process by polishing the pipe to make it shine. There are many different methods for cleaning steel pipes.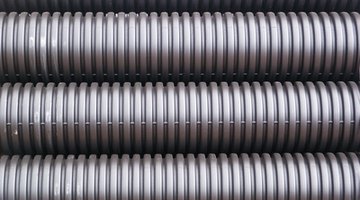 Choose the method that works best for you and your needs. If that method doesn't work as desired, move onto a different method.
Cleaning the Inside of the Pipe
Run water through the inside of the pipe. This can be done in a sink if the pipe is small enough. Use a water hose outside if the pipe is too big to fit in the sink.

Tilt and twist the pipe. While the water is running, tilt it so the water runs against the inside of the pipe. Twist the pipe so the water cleans off the sides of the pipe.

Use a scrub brush saturated with soapy water to scrub the inside of the pipe. If the pipe is too narrow to fit your hand though, use a baby bottle brush to clean the inside.

Rinse the pipe with clean water and allow to dry.
Cleaning the Outside of the Pipe
Saturate a soft cloth with distilled white vinegar and wipe the outside of the pipe with the cloth. Rinse the outside of the pipe with warm soapy water.

Soak paper towels in baby oil and clean the outside of the pipe with them. The baby oil will make the pipe shine like new.

Spray a water displacing formula onto a cloth and wipe the pipe down. The water displacing formula will not only clean the pipe, but it will also aid in protecting the pipe from future marks.
Polishing the Pipe
Apply a small amount of metal polish to a microfiber rag.

Rub the microfiber rag gently across the surface of the pipe to distribute the polish evenly. Make sure the polish does not get too thick on the pipe.

Rub the surface of the pipe gently with a clean microfiber cloth to work off any excess polish.

Buff the surface of the pipe and allow to dry.
Things You Will Need
Water
Scrub brush
Soapy water
Baby bottle brush
Soft cloths
Distilled white vinegar
Paper towels
Baby oil
Water displacing formula
Metal polish
2 microfiber rags
Tip
Follow all directions and warnings when using metal polish. When using metal polish, wear rubber gloves to protect your hands from skin irritation.
References
Writer Bio
Amanda Flanigan began writing professionally in 2007. Flanigan has written for various publications, including WV Living and American Craft Council, and has published several eBooks on craft and garden-related subjects. Flanigan completed two writing courses at Pierpont Community and Technical College.
Photo Credits
corrugated steel pipes-stacked image by Zhann from Fotolia.com
corrugated steel pipes-stacked image by Zhann from Fotolia.com
More Articles