How to Restore a Bronze Finish
Bronze statues, decor and furnishings can act as an elegant touch to a home or office because of its rich reddish color. It is can be easier to maintain than copper or brass because it takes longer to corrode than other metals.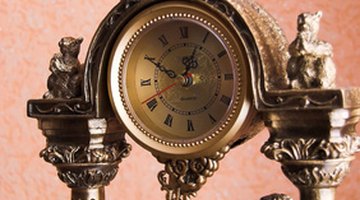 Things You Will Need
Hand vacuum
Soft cloths
Mild soap
Distilled water
Mineral water
Duster
Solvent
1 teaspoon of 1% Vulpex
Bronze polishing compound
According to Metal Works, however, bronze can be susceptible to 'bronze disease' which is produces a green residue on the surface when chlorides and oxygen combine in a damp environment. The "disease" develops an outbreak of corrosion and unappealing light green patches on the bronze's surface.
Dust off the bronze sculpture with a dust rag or soft cloth. Use a hand-held vacuum cleaner (or floor vacuum cleaner with nozzle attachment) to suction particularly thick dust on bronze.

Remove dirt or grime with mild soap and distilled, soft water (avoid hard water on bronze surface). Go over the bronze surface with a soft cloth a few times. Fill a rinse bowl with mineral water (devoid of soap) to rinse off any soap residue left on its surface.

Treat bronze corrosion with a solvent. Check for any dust particles once the solvent evaporates. Spray a moderate amount of solvent onto a soft cloth and wipe down the bronze's surface. Since solvent is used to wash away especially thick corrosion, you should wipe down the surface several times. Dry the bronze surface with a dry cloth.

Use one percent vulpex to restore highly corroded bronze material. Dust off any dust that may have accumulated on the bronze material. Mix about a tsp. of vulpex with mineral or distilled water. Wipe away corroded material with a soft cloth in sections, making sure to cover all areas that have corrosion or grime. Go over the surface at least two to three times in sections to make sure that all areas have been covered.

Use a bronze polishing compound to restore the bronze original sheen. Spay a moderate amount of compound onto a soft cloth, wiping down every inch of its surface. Avoid using commercially available compounds that contain hydrochloric or sulfuric acid as these ingredients can strip the bronze of it sheen permanently.
References
Photo Credits
bronze clock image by Kostyantyn Ivanyshen from Fotolia.com
bronze clock image by Kostyantyn Ivanyshen from Fotolia.com
More Articles