How to Dispose of a Broken Gas Grill
Gas grills, like other grills and grill accessories, eventually need replacing after years of use and being exposed to the elements. When disposing of a broken gas grill, you don't want to toss the grill into an illegal waste dump or leave the grill in your backyard for weeds to grow around it.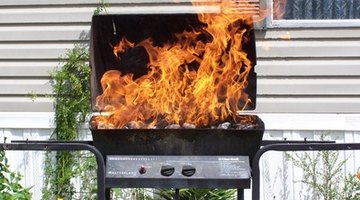 Gas grills contain metals that rust and can contaminate the environment over time. The grills also include a propane gas tank that needs to be disposed of properly as well.
Use a wrench to disconnect the propane gas tank from your broken gas grill. Wear work gloves to protect your hands.

Place the propane gas tank into a trash bag. Tie the top of the bag closed.

Take the propane gas tank to your area's hazardous waste facility or a propane supplier/hardware store that specializes in disposing of old propane gas tanks.

Place your broken gas grill on the curb next to your home's trash can(s) on the day of your scheduled trash pick-up.

Note, you may have to contact your area's trash collection service and schedule a "special pick-up request" for the broken grill you are throwing away. A fee may be charged for this service.
Things You Will Need
Wrench
Work gloves
Trash bag
Tip
You can also dispose of your broken gas grill by taking the grill to a scrap metal service or recycling center that specializes in metal recycling. Visit the "Recycle In Me" link in the Resources section of this article for more information on scrap metal/recycling services.
References
Writer Bio
Nick Davis is a freelance writer specializing in technical, travel and entertainment articles. He holds a bachelor's degree in journalism from the University of Memphis and an associate degree in computer information systems from the State Technical Institute at Memphis. His work has appeared in "Elite Memphis" and "The Daily Helmsman" in Memphis, Tenn. He is currently living in Albuquerque, N.M.
Photo Credits
hillbilly gas grill image by tomcat2170 from Fotolia.com
hillbilly gas grill image by tomcat2170 from Fotolia.com
More Articles