Insulated Vs. Non Insulated Garage Doors
Garage doors have an important function in any home; they help protect your vehicles, tools and personal items stored in your garage. Garage doors come in two different types: insulated and non-insulated.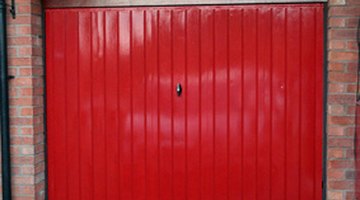 Many homeowners with attached garages fail to recognize the connection between heat loss and a non-insulated garage door. The type of garage door you choose depends on the type of climate you live in and whether or not you have an attached garage.
Features
Usually, garages that are attached to homes are built differently than separated garages. Attached garage doors tend to have thicker steel and stronger construction due to them being a part of the structure of your home. When shopping for a new garage door, ensure the steel is 24 or 25 gauge. The best garage doors have galvanized steel frames. Being galvanized helps the steel from becoming rusty. The types of joints a garage door has will ensure that it resists string winds and create more stability.
Insulated
An insulated garage door is made of two layers of steel with insulation in between each layer. These types of doors are much thicker than non-insulated doors and can be insulated a little or a lot, depending on your preferences. According to Dupagedoor.com, the higher the "R-value" of your insulated garage door, the better insulation inside. Many companies now sell environmentally friendly insulation that is made up of CFC-free and HCFC-free polystyrene. In addition to energy savings, insulated garage doors are quieter than non-insulated doors, more attractive, and resist dents and dings well.
Non-Insulated
A non-insulated garage door has an open back. Constructed only of steel, a non-insulated garage door is most appropriate for consistently warm climates. If it gets too hot or too cold in a certain area, a non-insulated garage door will either seep cold air into the garage or overheat the garage. The room over the garage will always take on some of the properties of the garage. When the garage is cold, the room above it will be the coldest room in the house.
Considerations
Choosing the correct type of garage door for you is important. According Doorsys.com, most attached garages represent 40 oercent of your home's exterior. If you reside in a location, where the weather doesn't typically get above 70 degrees or below 45 degrees, then a non-insulated door would be perfectly fine for your garage. A non-insulated door would also work of an unattached garage. If you use your unattached garage as a work or leisure area, then having an insulated door is best. In any other climate, whether it is hot or cold, an insulated garage door is essential to the comfort and energy efficiency of your home.
Suggestions
When shopping for your next garage door, consider all of the information regarding climate and garage use, but also think about your budget. An insulated garage door is significantly more expensive than a non-insulated door. Depending on the area where you live, most garage door companies will change an average of $1,000 to install a two car, insulated garage door, with a 6.5 R-value. As the R-value increases, so will the price. If you can afford an insulated garage door, that would be your best choice, particularly in colder climates. Even with a lesser R-value, an insulated garage door will save you hundreds in heat bills over time.
References
Writer Bio
Ekaete Bailey began writing professionally in 2005. She has experience in journalism, copyediting, Web content, marketing, creative writing and public relations/communications, with an emphasis in travel writing. Bailey writes for a variety of print and online publications. She earned a Master of Science in public-relations management from State University of New York College at Buffalo.
Photo Credits
red garage door image by green308 from Fotolia.com
red garage door image by green308 from Fotolia.com
More Articles