Gold Paint Ingredients
Gold paint comes in many forms from metallic paint with mica flecks that reflect light, to paint that you can spray or roll on. Art supply shops and paint stores carry a variety of shades of gold and the ingredients vary by manufacturer. Most gold paints are composed of a binding agent, pigment and a liquid.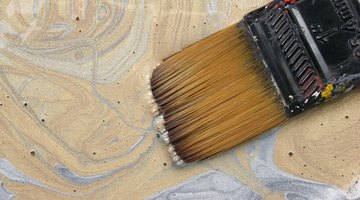 Pigment
Gold paint may contain a blend of different pigments. Manufacturers will often combine white and black pigment to make gray, then blend in yellow pigment to create a gold tone. They add metallic pigment powder to craft paints for a more realistic finish while they usually skip the metallic finish in wall paints.
Binder
All gold paint includes a binder. The binder causes pigments to adhere together and affects the gloss, durability and texture of the paint. Binders can made of a number of ingredients, including water-based acrylics, oils and egg yolks. Gold paint typically contains equal parts pigment and binder. The more binder gold paint has, the higher the gloss will be. Gold paint with an egg yolk binder, tempura paint, will dry quickly and is best used when you plan on layering paint, rather than going for a translucent look.
Liqud
The liquid or solvent adjusts the viscosity in gold paint and influences its application properties. The liquid in old-based paints will often be a thinner oil to allow the thicker oils to spread, while water is the solvent in water-based paints. Once the paint is applied to a surface, the liquid's evaporation permanently fixes the paint to its surface.
Mica Flecks
Mica is a mineral that naturally has a glittery appearance. Mica flecks are often in gold craft paints because they reflect light for a more realistic affect. They are available in craft stores and you can add them to gold paint separately to create a metallic luster.
References
Resources
Writer Bio
Aurora LaJambre is a writer and editor living in Brooklyn, N.Y. For over five years she's covered topics in culture, lifestyle, travel, DIY design and green living for print and online media. Her publication credits include "WOW Women on Writing," "Six States" and Catalogs.com. She graduated from New York University in 2003 with a Bachelor of Fine Arts in creative writing.
Photo Credits
gold and silver paint image by Andrew Brown from Fotolia.com
gold and silver paint image by Andrew Brown from Fotolia.com
More Articles