Leather Hat Treatments
Table of Contents
Leather hats typically come in Stetson style, such as those made iconic in the Indiana Jones movies. A leather hat is durable and shady, but it is not invincible. If proper care is not taken with the hat, then it can eventually run into one or more of the following problems.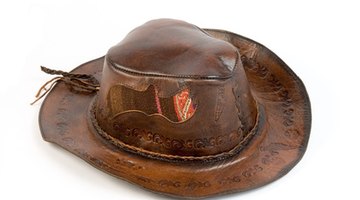 However, there is a treatment for every leather problem, so there is no need to throw out an old leather hat.
Oxidation
One of the ways that leather hats can become damaged is through oxidation. Oxidation causes the hat to crack, flake and tear across the surface. The best treatment for an oxidized leather is a rich leather dressing. A leather dressing restores moisture and oxygen back inside the fibers of the leather, returning it to the soft and flexible product that it started out as. Leather dressing contains many waxes and oils, such as beeswax and petroleum oil.
Wear and Abrasion
Constant touching of the hat by fingers, hooks and other surfaces causes abrasion and wear marks to appear on the hat's surface. Treat abrasion and wear damage by keeping the hat lubricated and saturated with conditioning oil. This will make the leather flexible, which will resist future damage and hide old ones.
Dirt and Oil
Dirt and oil from hands, hair, skin and surfaces cause the surface of a hat to become soiled and stiff. The best treatment for dirty leather is to wash the entire hat in warm, soapy water with a soft brush. Allow the hat to dry, then follow with several thick coats of leather dressing. After applying the dressing, apply a leather cleaner and conditioner about once a week to keep the leather clean.
Chemical Damage
Another form of damage that can cause problems with leather hats is chemical damage. This form of damage is a result of overexposure in the sun, chemical cleaners such as acetone, pollutants in the air and exposure to ozone. The best treatment for chemical damage is prevention, but some of the damage can be erased with a high-quality leather conditioner, which will protect the hat from further damage.
Dried Leather
Dried leather occurs when the leather is exposed to too much sun, heat and water. The leather turns stiff and abrasive. It is possible to treat this problem and turn leather soft once more. The best treatment for extremely dry leather is a thick coating of leather dressing or conditioner. Leave the conditioner on the leather for about 48 hours. Remove the excess dressing and work the rest into the surface of the leather until it becomes soft once more.
References
Writer Bio
Brenda Priddy has more than 10 years of crafting and design experience, as well as more than six years of professional writing experience. Her work appears in online publications such as Donna Rae at Home, Five Minutes for Going Green and Daily Mayo. Priddy also writes for Archstone Business Solutions and holds an Associate of Arts in English from McLennan Community College.
Photo Credits
cowboy leather hat image by Anton Gvozdikov from Fotolia.com
cowboy leather hat image by Anton Gvozdikov from Fotolia.com
More Articles