How to Adjust the Tension on a Brother CS6000I Sewing Machine
The Brother CS6000I sewing machine is equipped with a tension adjustment dial located on the top of the machine. The tension dial controls the tension of the thread as it feeds through the sewing machine. Proper tension is important as it affects the quality of the stitches.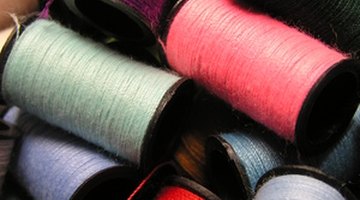 The tension can be adjusted at any time while fabric is being sewn. Adjust tension carefully, as too high of a tension setting could cause the needle to break.
Insert into the machine a piece of scrap fabric of the same type you will be sewing.

Make a few stitches to see how the tension needs to be adjusted.

Turn the tension dial to a lower number to reduce tension if loops appear on the surface of the fabric. This indicates the tension is too tight.

Turn the tension dial to a higher number if loops appear on the wrong side of the fabric. This indicates the tension is too loose.

Continue to adjust until the tension is correct, indicated by strong seams that do not pucker or loop excessively. Remove the scrap fabric and sew the piece that needs to be sewn.
References
"Brother CS6000I Computerized Sewing Machine Instruction Manual"; Brother Industries, Ltd.; 2009
Writer Bio
David Clair began writing for websites in 2001, creating online marketing content for business owners. He has written for Internet companies including eBay and creates training materials for an online education company. Clair is studying technical writing and pursuing an Associate of Arts in information technology from the University of Phoenix.
Photo Credits
thread image by studio vision1 from Fotolia.com
thread image by studio vision1 from Fotolia.com
More Articles