Problems With Fiberglass Doors
Table of Contents
Fiberglass doors are an appealing choice in modern building because of their durability and attractive appearance. Some fiberglass doors do an excellent job of resembling wood, but won't warp and shift as they absorb moisture over time.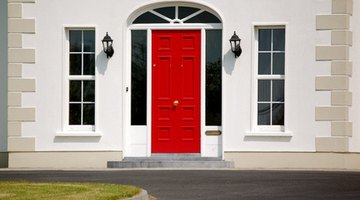 However, even the most modern, high-end fiberglass doors aren't entirely maintenance free.
Wear
Fiberglass doors usually have a stain and clear coat finish that will wear out over time. Sun, wind and rain cause the finish to become dull or faded. A good warranty for a fiberglass door's finish is five years. Left unattended, the finish can become blotchy and unsightly, and the inner fiberglass core can begin to rot.
Staining
Staining a fiberglass door, either to match the colors of a house when the door is new or to restore a worn finish, is a complicated and time-consuming process. Each brand of stain has its own application instructions, which indicate the safe temperature range for applying the stain or what sort of cleaning chemicals to avoid when stripping off the existing finish. Working in a sheltered space with little direct sunlight and wind is essential to getting a good finish. Sunlight and wind may cause the fiberglass stain to dry too quickly or unevenly. Most types of stain also require that the base coat dry for several days before you apply the clear protective finish. This means the door will need to be off its hinges for an extended period of time.
Cracks
Cracking is a problem with some low-quality, inexpensive fiberglass doors. The fiberglass is rigid and can crack during cold weather when the material contracts. These cracks may simply damage the door's appearance. They can also cause a gap where cold air can enter the home.
Graining
Some fiberglass doors include an artificial wood grain pattern to make the doors resemble traditional wooden doors. On inexpensive models, the buyer may have few choices as to the grain pattern and depth. Low-cost fiberglass doors may feature unnatural graining that looks fake.
Cost
Fiberglass doors come in a wide range of styles and prices. The best models, which include natural-looking graining and solid fiberglass construction, cost several thousand dollars.
References
Photo Credits
Red Door image by Rebs O from Fotolia.com
Red Door image by Rebs O from Fotolia.com
More Articles