Where to Find Door Steps For a Mobile Home
Mobile-home stores sell a variety of doorsteps in wood, concrete, fiberglass and steel. Before you buy steps, though, you should check with your local building inspector to make sure the steps you buy comply with local codes.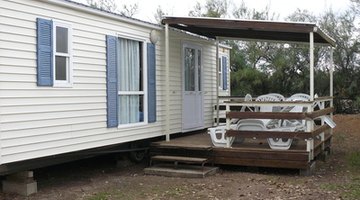 Mobile Home Parts Store
Mobile Home Parts Store sells fiberglass and R-Co steps for your mobile home. Fiberglass steps come with an optional handrail. R-Co steps are constructed of heavy-gauge steel, coated with a weather-resistant and nonskid coating, and given a textured brick or stone finish.
Mobile Home Parts Store 15860 Scotland High Road Laurinburg, NC 28352 1-888-277-7220 mobilehomepartsstore.com
Mobile Home Depot
Mobile Home Depot sells fiberglass, wood, steel and R-Co steps. Steel and fiberglass steps include optional hand railings. Wood steps include a 4-by-4-foot or 4-by-8-foot deck.
Mobile Home Depot 672 N. Milford Road, Suite 104 Highland, MI 48357 1-877-887-3187 mobilehomedepotmi.com
Complete MH
Complete MH sells portable fiberglass, concrete and wooden steps. The wooden steps are designed for those on a budget or for those who want an easy or temporary solution. The company recommends calling for a freight quote, since the cost for shipping can exceed the cost of the stairs.
Complete MH 2855 Highway 80 E Pearl, MS 39208 800-367-2275 completemobilehomesupply.com
References
Resources
Writer Bio
Lani Thompson began writing in 1987 as a journalist for the "Pequawket Valley News." In 1993 she became managing editor of the "Independent Observer" in East Stoneham, Maine. Thompson also developed and produced the "Clan Thompson Celiac Pocketguides" for people with celiac disease. She attended the University of New Hampshire.
Photo Credits
Camping – Mobilhome image by albillottet from Fotolia.com
Camping – Mobilhome image by albillottet from Fotolia.com
More Articles