How High Should Kitchen Cabinets Be From the Countertop?
Hammer Zone states the common practice is to place upper kitchen cabinets 54 inches above the floor. This leaves 18 inches between the bottom of the cabinet and the countertop since the common height of the base and countertop is 36 inches.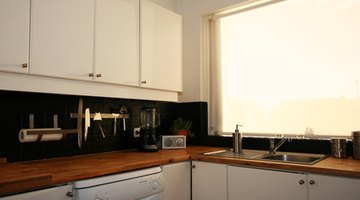 Common Practice
Outlets and switches are normally 44 to 48 inches off the floor; having 18 inches above the countertop provides sufficient access to these outlets.
Special Needs
If you are either very tall or short, a standard kitchen may not be comfortable or convenient for you to work in, states Kitchen Cabinet Depot. Disabled and elderly people may not be able to stand at the counter for long periods of time. In these situations, a custom kitchen may be in order.
Bottom Line
Visit showrooms and stand at a standard-height counter to see if it is comfortable for you. If it is, the height of your upper kitchen cabinet should be 54 inches off the floor or 18 inches above the countertop, according to Hammer Zone. If standard-height counters are not feasible, plan and build your countertops to a custom height.
References
Photo Credits
le kitchen image by sumos from Fotolia.com
le kitchen image by sumos from Fotolia.com
More Articles