What Hardware Is Used on a Dutch Door?
A Dutch door is divided in half horizontally, so that the top and bottom halves may be operated independently. This design makes it necessary to install some specific hardware to make the door work properly.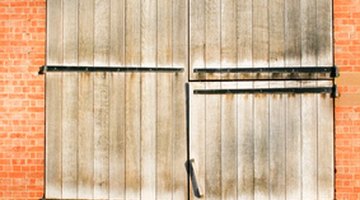 Hinges
Instead of three hinges, you need four for a dutch door, two for the top half and two for the bottom half. Regular door hinges will work. Getting the two halves to hang properly together can be a challenge, so it's especially important to make sure the door is level and plumb.
Bolts and Latches
A vertical bolt or latch assembly makes it possible to connect the top and bottom halves of the door, so that they can be opened as one whole door when desired. While a typical slide bolt will work, a Dutch door quadrant latch is specifically made for this purpose.
Knobs
A normal doorknob assembly is usually installed on the bottom half of a Dutch door when used in a house. For barn doors, finger latches, hooks and eyes or other typical latch mechanisms can be mounted on both halves of the Dutch door.
References
Resources
Writer Bio
LeeAnn Bonds has been writing since 2005. Her articles have appeared in "Idaho Magazine" and "BackHome Magazine." Bonds has a short story published and is the Bible Basics editor at BellaOnline. She has a Bachelor of Science in business management from Fitchburg State College and completed a two-year writing course offered by the Christian Writers Guild.
Photo Credits
barn door image by david hughes from Fotolia.com
barn door image by david hughes from Fotolia.com
More Articles