How to Install an Overhead Cabinet With Mini Struts
Mini struts for cabinets are also called gas spring lid supports. This type of strut is used to hold open the door of an upward opening cabinet. Installing the strut inside the cabinet is easy. The strut comes with directions for framed or frameless cabinet styles so you can adjust the installation to your particular door style with minimal difficulty. Look for a strut designed to hold up the full weight of your door, since some cabinets are small and lightweight while others are much larger and heavier.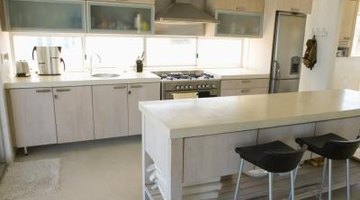 Step 1
Measure the size of your cabinet doors. Select a set of struts designed for your cabinet type and the approximate weight of your cabinet doors. Typically you will need two struts for each door.
Step 2
Follow the mounting directions for your particular mini strut. In general, the strut is a gas-filled piston that extends when the door is fully open, with the fatter side of the piston mounted to the door and the narrower inner rod mounted to the cabinet.
Step 3
Mount the door side of the piston using the mounting bracket. Open the door on the cabinet and extend the strut. Position the strut bracket approximately 2 5/8 inches from the hinge on the inside face of the door. The bottom or cabinet side of the piston should mount 3/4 inch inside the front face of the cabinet, and from one-third to half the height of the cabinet. With the piston fully extended, you should be able to locate the correct position for your particular cabinet size.
Step 4
Mount the brackets in the order recommended by your strut manufacturer. Screw each bracket into the wood. Select screws shorter than the depth of your cabinet side wall and door. Most struts do not come with screws. Each bracket requires two screws.
Insert the strut into the bracket. Some struts are pre-attached to the brackets and you may need an extra person to hold the door while you do the installation.
Tips
Gas struts are more expensive than other types. Struts are popular on RV and camper cabinets.
Writer Bio
F.R.R. Mallory has been published since 1996, writing books, short stories, articles and essays. She has worked as an architect, restored cars, designed clothing, renovated homes and makes crafts. She is a graduate of the University of California at Berkeley with bachelor's degrees in psychology and English. Her fiction short story "Black Ice" recently won a National Space Society contest.
Photo Credits
Goodshoot/Goodshoot/Getty Images
More Articles