How to Install Half Overlay Hinges
Use a half-overlay hinge when the door partially overlaps the cabinet edges. The door lays over approximately half of the width of the cabinet carcase edge. Typically, half-overlay doors extend 3/8 to 1/2 inch past the opening. The overlay measures how much bigger the door is than the opening it covers. Aesthetically, half-overlay hinges allow you to hide the hinges from sight and create a smooth appearance for your cabinets. Half-overlays are very useful when you have two doors that open back-to-back.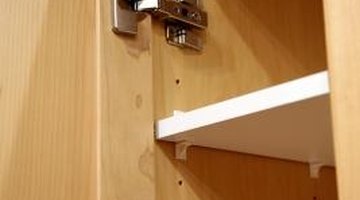 Measure the position of the center of the hinge cup hole from the top of the door.

Mark the center line of the hinge on the back of the door with pencil or tape.

Place and hold the door in position over the cabinet opening. Transfer the cup hole mark to the front edge of the cabinet.

Mount a 35 mm Forstner bit in your drill and bore a flat-bottomed 35 mm diameter hole in the back of the door. Drill to a depth of 1/2 inch to create the place for the hinge cup.

Align the tabs of the mounting plate portion of the hinge to the edge of a face frame cabinet. Mark the position for the screws by using the hinge as a template. Use the location your hinge manufacturer specifies to position screws on frameless cabinets, due to the variations in hinge and cabinet sizes.

Screw the other part of the hinge apparatus, the mounting plate, to the frame of face-frame cabinets. Screw the mounting plate to the cabinet carcase on frameless cabinets.
References
Tips
Jigs make the job of drilling holes accurately easier and faster.
Average DIY practitioners may struggle to create acceptable hinge cup holes without a drill press. Give yourself the best chance of success by practicing on wood of the same type and thickness as your cabinets.
Writer Bio
Lee Roberts has written professionally in different capacities throughout her career. She has written for not-for-profit and commercial entities since she received her Bachelor of Arts in sociology from the University of Michigan in 1986. She is currently writing an extensive work of fiction.
Photo Credits
Jupiterimages/Photos.com/Getty Images
More Articles