Green Ways to Polish Aluminum
Going green is a lifestyle change. It involves using environmentally friendly products to help reduce landfill waste and preserve the natural landscape. There are a number of household products you can use to polish aluminum that are not harmful to the environment.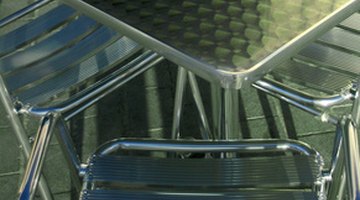 These products include toothpaste, baking soda and vinegar.
Toothpaste
You can use toothpaste to polish your aluminum. Dab a small amount of it onto the aluminum and rub the toothpaste in with a dry cotton cloth. Use a soft bristle tooth-brush to get in between small grooves and to remove stubborn stains. Rinse off the toothpaste with warm water and polish the aluminum with a soft, dry rag to bring out the shine.
Vinegar
This method is good for corrosion caused by salt or food that react with silver. These foods include eggs, peas and onions. Place the aluminum item that needs polishing in a mixture of 2 cups of hot vinegar and 1 Tbsp. salt. Allow the aluminum to soak for at least 5 minutes before you rinse it and dry it with a rag.
Baking Soda
Baking soda is a multifunctional product that can be used in the bathroom and kitchen for baking, cleaning and as a deodorizer. When using it to polish your aluminum, make a thick paste with water and baking soda. Apply the paste to the item, let it sit for 1 hour and rinse it with warm water. Dry and polish the aluminum with a dry, clean cloth.
References
Writer Bio
Stacey Price started writing for various websites in December 2009. She has an associate degree in public health administration from South Eastern University. She has spent many years working in a hospital setting in the human resource field. She also writes about travel, parenting and beauty/personal care, drawing from more than seven years experience as a licensed cosmetologist.
Photo Credits
table image by Jacques PALUT from Fotolia.com
table image by Jacques PALUT from Fotolia.com
More Articles