How to Tighten a Rivet
Rivets are used to permanently fasten two or more objects together. They are cylindrical on one end with a head on the other, similar to a screw without grooves. Once the rivet is inserted through a hole in each object, the cylindrical end is hammered forcefully until it forms a second head and is secured in place.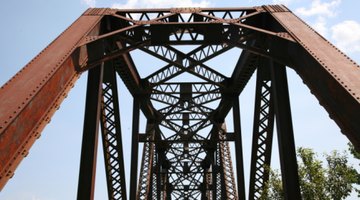 If a rivet becomes loose, hammer it down again with the help of a partner.
Direct your helper to stand on the side of the rivet that has not been hammered. Ask your partner to press down and brace himself against the rivet with a heavy object, such as a brick.

Stand on the opposite side of the rivet and bang it forcefully several times with a hammer. You should feel the rivet digging into the objects it holds together, but not exiting through the opposite side.

Pour water on the rivet from your side and ask your partner to check for any leaks. Hammer it again if water seeps through the rivet hole. Repeat this process until the leak stops.
References
"Practical Blacksmithing and Metalworking"; Percy Blandford; 1988
Writer Bio
Michael Monet has been writing professionally since 2006. At the San Francisco School of the Arts, he studied under writers Octavio Solis and Michelle Tea, performed his work in Bay Area theaters and was published in literary journals such as "Paradox," "Umlaut" and "Transfer." Monet also studied creative writing at Eugene Lang College in New York and Mills College in Oakland.
Photo Credits
Jupiterimages/Photos.com/Getty Images
Jupiterimages/Photos.com/Getty Images
More Articles