Outside Wall Covering Ideas
In landscaping a home's exterior, wall treatments are an opportunity to go beyond traditional siding types to create a backdrop that accentuates the architecture of the building while tying it together with the surrounding, natural environment.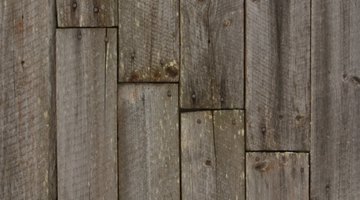 Whether treating the exterior walls of a garage, the interior walls of an enclosed patio or the side of a garden wall, a variety of approaches will transform surfaces into works of art.
Reclaimed Wood
Salvage old wood boards to cover a wall. Different tones, textures and thicknesses will result in a variegated, rustic wall treatment. Contact demolition companies, neighborhood carpenters and visit salvage yards. Dry the boards, if necessary, and sand down old finishes or imperfections. Cut the boards to the height of the wall, and seal them with an outdoor wood finish. Affix them to a prepared wall in a vertical manner, so rainwater can drain through properly. Methods for securing wood boards to a wall include adhesive and nails or screws. Screw heads can be countersunk and covered with a wood plug. Stain and seal the plugs to match.
Pebble Stucco
Stucco provides nearly limitless opportunities for texturing a wall and is a material well suited for treating a concrete wall. Wash the wall with concrete etch cleaner, if necessary, and paint it with a concrete bonding agent. Apply an initial scratch coat, which is a thick coat that is scratched with a plasterer's rake. On top of the scratch coat, trowel on a slightly thinner coat of mortar that has been mixed with clean, small pebbles. Tint the mortar with dye if desired. Before the stucco dries, gently wipe the surface with a damp sponge to remove a thin film of mortar and reveal the tops of the pebbles. Pebbles are available in a variety of colors, including white, black, blue-gray, red-orange, beige and blended. Once cured, paint the stucco with sealer.
Bamboo Panels
Give a space the look of a tiki hut on a tropical beach or a Zen garden using handmade bamboo panels. Bamboo panels are primarily a decorative covering. Paint the bamboo with wood preservative, and create the panels like a fence panel with two horizontal rails and a sequence of vertical slats. Secure the joints with moistened twine. Prepare the wall by painting it. Use concrete paint for concrete or masonry surfaces. Secure the panels to the wall with spacers or protruding hooks. Spacing will allow for air and moisture flow behind the panels, and, when shadows are cast onto the painted wall beneath, will create a sense of depth. You can also plant climbing plants below the panels, allowing them to climb the panels like a trellis.
References
Writer Bio
Mason Howard is an artist and writer in Minneapolis. Howard's work has been published in the "Creative Quarterly Journal of Art & Design" and "New American Paintings." He has also written for art exhibition catalogs and publications. Howard's recent writing includes covering popular culture, home improvement, cooking, health and fitness. He received his Master of Fine Arts from the University of Minnesota.
Photo Credits
Jupiterimages/Photos.com/Getty Images
Jupiterimages/Photos.com/Getty Images
More Articles