Stainless Steel Bolt Identification
While standard steel bolts are marked by a graded system of head markings that identify strength, stainless steel bolts, often chosen for their resistance to rust and corrosion, are not held to a system. Instead, they must be identified in other ways.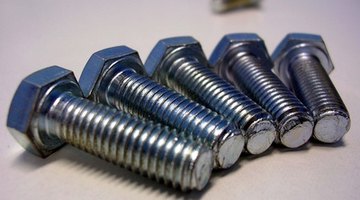 Function
Although not as strong as hardened steel, stainless steel bolts are constructed of low-carbon steel alloys, 17 percent to 19 percent chromium and 8 percent to 13 percent nickel according to BoltDepot.com; they are chosen for their resistance to corrosion compared to other bolts.
Physical Characteristics
The most easily verifiable physical difference between a stainless steel bolt and a standard steel bolt is through magnetism. Stainless steel bolts are far less magnetic than their steel counterparts and they may carry a more noticeable luster.
Head Markings
While there are no industrywide standards for stainless steel bolt head markings, some common markings are giveaways. The absence of standard steel radial line marking is an important indicator, but abbreviations using some variation of B8 are common among stainless steel bolt manufacturers.
Manufacturer Identification
If you know the name of your bolt's manufacturer, you can obtain a chart from the manufacturer to exactly match your bolt's head markings with its construction material. The American Iron and Steel Institute (AISI) designations of 304, 316, 409, 410 and 430 denote stainless steel.
Writer Bio
A professional writer since 2006, Chris Burrows has covered news, sports and automotive topics as a blogger and Chicago-based journalist. Burrows holds a Bachelor of Arts in English from the University of Illinois at Chicago and Master of Arts in journalism from DePaul University.
Photo Credits
bolt image by martini from Fotolia.com
bolt image by martini from Fotolia.com
More Articles