How to Fix a Broken Wood Frame for a Picture Painting
No matter how great a painting is, if the wood frame that holds it is broken it distracts the observer away from the beauty of the painting. A broken wood frame also is at risk for falling off the wall, causing permanent damage to a painting.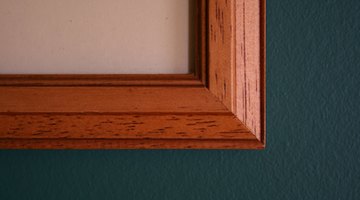 Things You Will Need
Broken frame
Small chisel
Brad nails
Wood glue
Sandpaper
Corner clamps
With a few basic tools you can fix your wooden frame to enjoy for years to come.
Separate the four corners of the frame. In order to fix it properly it is important to repair all of the corners. If one corner broke it is a matter of time before the others follow. Remove any nails or splines and gently pry the corner apart from the inside corner. This, if done carefully, should keep the wood from splitting or splintering. If the frame is put together with joints, gently slide them apart. Remove any old glue that remains on the corners by gently chipping it away with a small chisel or with sandpaper. Do not remove any of the wood in the process. Removing just a fraction of an inch of the wood will make the frame fit improperly.

Glue and secure the corners back together. Start with one corner, applying ample wood glue and very carefully putting the corner in a corner clamp to hold it together while drying. You will need to slide the two pieces back and forth until they match up exactly before clamping them. Do the same to the two other pieces, allowing several hours for them to dry.

Secure the glued corners with brad nails or splines. You can use the existing hardware that was removed or replace it with new if it is worn out or broken. Splines tend to go right back where they were so keep this in mind and remove them carefully when preparing the broken frame. Be very careful when driving the hardware into the wood so the glue does not come apart. When using brads, countersink them, and be sure to fill the holes with wood putty and sand with sandpaper to create a professional finished look.

Finish the frame by gluing and securing the two finished sides together as instructed in steps two and three. This can be a little trickier when matching up two sets of corners at the same time. Be patient and match them up. If you matched the first two corners properly, the second two should also match up. The frame is now ready to be put around a painted picture once more.
References
Resources
Writer Bio
Michelle Epperly is a freelance writer based in Southern Oregon. She has been writing on a diverse range of topics since 2005. She has written articles and SEO content specializing in nutrition, real estate, parenting and life coaching.
Photo Credits
picture frame corner image by Jim Mills from Fotolia.com
picture frame corner image by Jim Mills from Fotolia.com
More Articles