What Is the Difference Between a Skid Steer & a Bobcat?
A skid steer, also known as a skid loader, is a compact machine used for digging. It also has the ability to push, pull and lift material. It is lighter and more maneuverable than a tractor front loader, and is used typically in construction and landscaping work.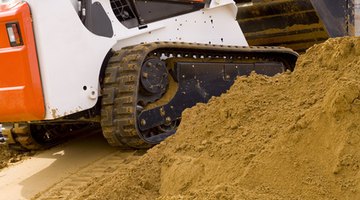 The Skid Steer
Skid steers are available in various sizes. As the size increases so does the load capacity. Skid steers have a load capacity of less than 800 pounds to over two tons. Skid steer attachments enable the machine to perform various tasks that generally would take significant time and effort without machine assistance.
The Bobcat
Bobcat is a brand name. Bobcat offers skid steers and many other types of construction equipment. There are over a dozen models of Bobcat skid steers. Bobcat also offers more than 70 attachment options.
Attachments for Skid Loaders
Skid loaders have numerous attachment options, including buckets of various types and sizes, backhoes, forks, hammers, brooms,and augers. These attachments enable the loader to move material, dig, aid in landscaping tasks and perform many other jobs in construction.
References
Writer Bio
Mona Prestenbach is from south Louisiana and started writing professionally in 2010. With over two decades of extensive office experience she offers excellent communication and organizational skills. She is a state-licensed, nationally certified Massage Therapist with a Master of Science from Blue Cliff College.
Photo Credits
loader image by Dmitry Nikolaev from Fotolia.com
loader image by Dmitry Nikolaev from Fotolia.com
More Articles