How to Paint Over Behr Sandwash Paint
Behr's Sandwash Paint is a textured paint whose application yields a pleasing sand dune texture. If you are painting over a wall that has been painted with a textured paint such as Behr's Sandwash Paint, you must consider certain factors . Most textured paint, including Behr's Sandwash Paint, is water-soluble.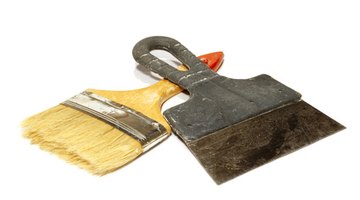 Things You Will Need
Alkyd primer
Paint
Airless spray paint brush
If you paint over an interior wall covered in water-soluble textured paint with a waterborne paint, the textured paint will fall off of the wall, leaving you with a splotchy mess. To avoid having to strip off the textured paint off of the wall, be sure to use a non-waterborne alkyd primer.
Prime your walls with an alkyd primer paint. If the Behr Sandwash Paint already on the wall is a light color, you will likely only need one coat of primer. If it is a darker color, you may require two coats of primer. Alkyd primer paint is oil-based, which makes it less likely to cause peeling and dissolution of the underlying textured paint.

Use an airless spray paint brush. If you use a paint roller or paint brush, you may cause the underlying texture to soften and break apart. By using an airless spray to cover the walls in primer, you increase the chances that the texture of the underlying Behr Sandwash Paint will hold.

Use water or paint stripper if the texture softens or breaks after applying primer. You may either soak the walls in water or paint stripper. Once the walls are soaked, the paint should peel off. After the paint has peeled off, you will need to reapply primer before painting your walls.

Use any type of paint after you have primed the walls. If the underlying Behr Sandwash Paint has successfully held after priming, you may use whatever type of oil-based paint you want. However, you should still use an airless spray paint brush to apply coats of paint, because using a roller or paintbrush can still cause softening or breaking of the underlying texture.
References
Writer Bio
Salvatore Jackson began writing professionally in 2010. He has experience with international travel, computers, sports and law. Jackson is a licensed attorney with experience in legal research. He received his Juris Doctor from Tulane University in 2010.
Photo Credits
paint image by Aleksandr Ugorenkov from Fotolia.com
paint image by Aleksandr Ugorenkov from Fotolia.com
More Articles