Tree Stump Woodworking Projects
For woodworkers, wood carvers and sculptors, tree trunks can present a fascinating canvas for woodworking projects. Tree trunks can be used for wood beams, pillars, hand- or chainsaw-crafted sculptures, or tables and stools. Always wear safety goggles and work gloves when cutting or carving a tree stump.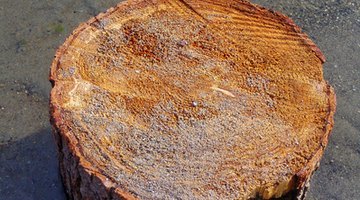 Treatment
The tree stump should be dry before you work on it. A freshly cut tree trunk can take several weeks to dry on its own. First, strip the bark by peeling it off with a sharp hatchet without damaging the wood beneath. Keep the stump off the ground and in direct sunlight, turning it every few days to prevent moisture from rotting the wood. It is natural for the tree stump to crack as it dries. Cracks and holes can be filled using wood filler. Apply two coats of wood primer if you plan to paint the stump.
Table
A dry tree stump can make a beautiful table. Shape the top of the table using course-grit sandpaper on an electric sander to make it level and to remove cuts left by the chainsaw or axe. Once the table is flat, change to medium-grit sandpaper, then fine-grit sandpaper. You can mount legs on the table by using three furniture gliders, evenly spaced on the bottom. Paint or stain the stump as desired using exterior-grade finishes, or seal it with wood sealer.
Bird Bath
A tree stump can also be used as an outdoor fixture, such as a built-in bird bath. Draw a circle in the center of a flat stump by tying a string to a pencil and tacking the end of the string to the center of the stump. Cut gouges into the trunk inside the circle with a circular saw about 0.5 inch apart. Then remove the wood between cuts with a chisel. Keep cutting and chiseling until you have cut out a concave bowl. Treat the stump with wood sealant, or cap it with concrete.
Sculptures
Tree trunks of any shape or size can be used for sculpting. Large trunks can be sculpted using a chainsaw; smaller, more delicate works can be sculpted using wood carving chisels. Find designs that seem natural for the shape of the trunk. Draw sketches of your design on paper, then cover the back of the paper design with charcoal and trace the design onto the wood. The trunks can be left outdoors to decorate the yard, or brought inside to serve as decorative pillars, tables or shelves.
References
Resources
Writer Bio
A published author and professional speaker, David Weedmark has advised businesses and governments on technology, media and marketing for more than 20 years. He has taught computer science at Algonquin College, has started three successful businesses, and has written hundreds of articles for newspapers and magazines throughout Canada and the United States.
Photo Credits
close up of tree stump image by Leticia Wilson from Fotolia.com
close up of tree stump image by Leticia Wilson from Fotolia.com
More Articles