What are the Costs of Pond Building?
The cost of building a pond ranges from $10,000 to $20,000 per acre for small ponds. Larger ponds of 10 acres or more can cost between $1,000 to $5,000 per acre for good sites, according to Alabama A&M and Auburn Universities.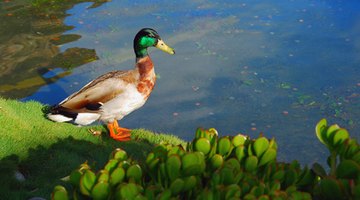 Most of the expense of building a pond comes from removing all of the dirt to create the hole for your pond. A 1/2-acre pond takes one and a half weeks of excavation work, while a 1-acre pond takes two to three weeks.
Contracted Work
If you prefer to leave the work of building your pond to a contractor, most contractors base their price on the size of your pond. They also review the watershed to determine what type of drainage system your pond requires. Drainage systems with large pipes cost more than smaller drainage systems. Contractors also look at soil conditions and the layout of the land. If all of the conditions look good, a 1-acre pond may cost around $14,000. But if the conditions are not all met, pond construction can run as high as $25,000 per acre. To keep costs under control, consider asking for individual unit prices and agreed-upon costs for every item needing to complete the project. You can also ask for a lump sum contract that requires all work be completed for one price.
Grants
If your proposed pond helps reduce downstream water pollution, government programs may be available to defer some of the cost of building the pond. Ponds used as a source of water for livestock may also qualify for government assistance. Check with your local soil and water conservation district to find out what grants are available in your region. The National Resource Conservation Service also offers information on available grants.
Digging
Digging a hole for your pond uses up most of the time and budget required to build a pond. To keep costs down, dig a test hole to determine the suitability of your chosen site and to get an idea of what kind of soil exists. If the test reveals a clay base, you can create a permanent pond that holds water all year round. If you hit gravel in your test hole, you'll need to build a water table pond or bring in clay to build a suitable base for the pond, a process that requires more time and money. Your county's soil and water conservation district offers free help to determine the suitability of your site.
Garden Ponds
Small garden ponds require less money to build, since homeowners can usually complete some of the work themselves. The biggest time drain for garden ponds includes excavating the hole. You can rent excavating equipment by the day, or hire a contractor to do the work for you. You'll also need a pond liner to keep the water in your pond. Pond liners range from small liners that cost $150 to larger versions that cost more than $1,000.
References
Resources
Writer Bio
Nancy Wagner is a marketing strategist and speaker who started writing in 1998. She writes business plans for startups and established companies and teaches marketing and promotional tactics at local workshops. Wagner's business and marketing articles have appeared in "Home Business Journal," "Nation's Business," "Emerging Business" and "The Mortgage Press," among others. She holds a B.S. from Eastern Illinois University.
Photo Credits
by the pond image by Quennie Chua from Fotolia.com
by the pond image by Quennie Chua from Fotolia.com
More Articles