What Natural Oils Help Kill Spiders in the Home?
Although most spiders are harmless, many people recoil when they find one in their home. Fortunately, you can use inexpensive essential oils to kill any spiders that may already be present and deter others from invading your space.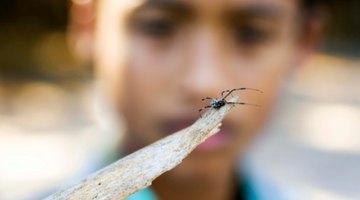 Just purchase your preferred oil, mix a little bit into some water, put the mixture into a spray bottle and mist the affected area. As a bonus, your home will smell nice.
Rose Oil
Rose oil is derived from the petals of roses. In addition to killing spiders, rose oil produces a scent that is known to calm nerves and alleviate depression.
Lavender Oil
Lavender oil is created from the petals of lavender blossoms. The lavender will kill off the spiders in your home while producing a scent that alleviates stress and establishes a restful environment. If the spiders have made their home in a bedroom, this might be the best oil to use.
Citronella Oil
Citronella oil is derived from the stems and leaves of Cymbopogon. Citronella is particularly well known for its effectiveness in killing and repelling spiders. When used in aromatherapy, citronella is a refreshing scent that can alleviate joint pain in arthritic individuals.
Cinnamon Oil
Cinnamon oil is derived from the bark of cinnamon. While it is deadly to spiders, many people associate the scent of cinnamon with a comfortable homeyness: think apple pies, hot chocolate and apple cider. Although it is not typically used in aromatherapy, cinnamon is a favorite scent among many.
Lemon Oil
Lemon oil has a very well established reputation for killing insects. Derived from the peel of the lemon, it is the acidic citrus in the lemon that kills spiders. If you choose lemon oil, consider switching to lemon scented cleaning products to double the effectiveness of your efforts. The smell of lemon is very simulating and creates an energetic atmosphere.