How to Use Trash Compactors
Trash compactors use a compacting ram to compress the trash. The ram is designed not to go to the bottom of the device, which is why you don't see trash compaction when the compactor is half full. The compactor must be at least half full before it will start to compact.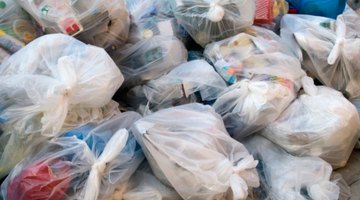 Using trash compactors involves filling the drawer, starting the compactor and removing a filled bag. It's fairly easy to use trash compactors and take them through a few steps.
Place a disc-shaped air freshener into the air freshener slot or receptacle before using the trash compactor. Then install a new bag by locking the drawer latch and putting the bag caddy into the drawer. Place the bag in the caddy.

Fill the drawer by placing the bulkiest items in the center. Bottles or cans that aren't in the center can get caught by the ram. Although this usually doesn't cause a jam, it will cause the ram to return to its start position without performing the job. Avoid smelly objects like fish and wrap wet trash.

Start the compactor by pressing the "Start" button, or turning the knob to the "Start" position. The compactor will stop after it has compacted. Choose the "Extra Pack" or similarly labeled cycle for extra force compaction. Then pull the drawer open, latch it and remove the bag. Fold the top portions of the bag to close it and lift it out of the compactor.
Things You Will Need
Trash compactor air freshener discs
Bags
Writer Bio
Patrick Nelson has been a professional writer since 1992. He was editor and publisher of the music industry trade publication "Producer Report" and has written for a number of technology blogs. Nelson studied design at Hornsey Art School.
Photo Credits
Jupiterimages/Photos.com/Getty Images
Jupiterimages/Photos.com/Getty Images
More Articles