Senior Mobile Home Parks in Greenville, South Carolina
While retired residents are welcomed at almost every mobile home park in Greenville, South Carolina, only one is completely dedicated to senior living. Pebble Springs Mobile Home Park is located just 15 minutes north of Greenville, in the foothills of the Blue Ridge Mountains.
Features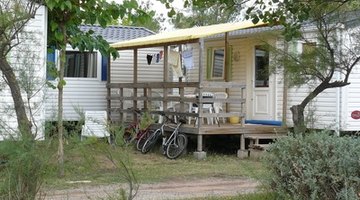 Pebble Springs Mobile Home Park describes itself as an active adult community. Fishermen will enjoy that the community is located just 3 miles from Lake Cunningham and only 2 miles from Lake Robinson. Ten miles down the road is the Reedy River. Shopping, restaurants and health care facilities are located only minutes from the park.
Types
A mobile home provides a low-cost housing option for seniors needing an economical living option, especially for seniors who spend much of their time traveling. The low monthly lot fee of only $247 a month, as of September 2010, includes trash pickup and lawn care service.
Considerations
The Pebble Springs Senior Mobile Home Park is limited to senior citizens ages 55 and over. This allows seniors to live in a quiet community where their neighbors are in a similar place in their lives. The community maintains a list of regulations regarding the appearance of property, noise pollution, and pets to help ensure that the community remains a pleasant place to call home. The city of Greenville also has a small-town atmosphere without sacrificing the benefits of a larger city. Seniors will have access to a number of entertainment and dining experiences.
Pebble Springs Manufactured Housing Community
Old Rutherford Road
Taylors, South Carolina 29687
864-313-2363
retirementsc.com/index.htm
References
Writer Bio
Jennifer Tolbert currently resides in Magnolia, Texas. She holds a Bachelor of Science in agricultural communications from Texas Tech University and a Master of Science from Texas A&M University. She has written several award-winning special sections as a marketing writer and is currently a special education teacher.
Photo Credits
Camping â€" Mobilhome image by albillottet from Fotolia.com
More Articles