How to Repair Recliner Furniture
Reclining furniture comes fitted with a mechanism that allows the back support area to recline back and the leg area to raise up. Recliner chairs are used by people who enjoy the comfort of having a relaxed mode and a standard mode of sitting.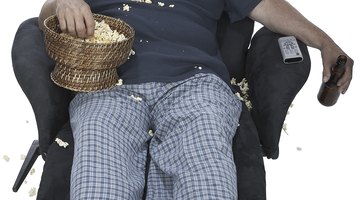 They can also be used by people with back problems and other injuries to reduce strain on specific body areas. Most recliners can be repaired without professional help.
Check the type of screws that hold your recliner sofa or chair together. Tighten any loose screws with a Phillips screwdriver or a standard screwdriver. Problems with the reclining function can often be caused by loose fittings which prevent ease of motion. Visit a hardware store and buy replacement screws that match the type on your recliner if any are missing.

Repair damage to the fabric or leather of your recliner chair. Tears and holes can be caused by anything from cigarette burns to the boisterous behavior of young children. Visit a fabrics store with a sample segment of material from your torn chair. Buy patches of material of fabric or leather from a fabrics shop to repair the damage. Once cut to fit the tear, these can usually be attached to your sofa using fabric or leather glue.

Fix the wood on the underside of your recliner. Wood can crack and splinter due to excess pressure or aging. Bind any cracks by squeezing a layer of wood glue into the gap. Hold firmly together until the glue has set. Depending on the size and weight of the unit, you may need the assistance of a friend to bond the crack back together.

Examine the nuts and bolts on the back and underside of your recliner furniture. Grip the tip of each with a wrench and turn in a clockwise direction to ensure the chair or sofa is securely held together. Nuts may have fallen off during a house move or the rearrangement of furniture. Replace these by purchasing them from a tool or hardware store and fit them on the recliner.
Things You Will Need
Screwdriver and screws
Replacement patches of material
Wood glue
Wrench
References
"Fifty Chairs That Changed The World"; Design Museum; 2009
Writer Bio
Jason Prader began writing professionally in 2009, and is a freelance writer with a sound academic background and experience in writing articles for online magazine Shavemagazine.com. He is highly adept at constructing academic essays and producing articles on an array of subject matter. He holds a master's degree in 20th century literature from the University of Sussex.
Photo Credits
NA/PhotoObjects.net/Getty Images
NA/PhotoObjects.net/Getty Images
More Articles