Is a Drain Pan Required for the Replacement of Existing Water Heaters in Texas?
One of the best ways to help prevent damage to your home from a broken water heater is by installing a drain pan underneath the heater. A drain pan, properly installed, can save your home from potential water damage and the associated side effects, such as mold infestation, that comes with a leak.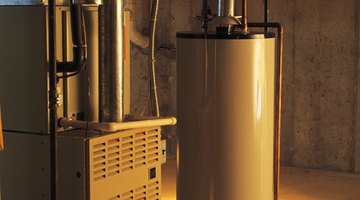 Regulations for installing drain pans with replacement water heaters differ from state to state, and Texas is no different.
Water Heater Operation
Water heaters in Texas are most commonly powered by electricity or gas. The typical water heater tank size is 40 gallons. Water flows into the water heater tank from the water supply connection. Once inside the tank, the water is heated by its energy source. After heated to the appropriate temperature, the water inside then flows to the rest of the house on demand.
Water Heater Drain Pans
A water heater drain pan is positioned directly underneath the water heater. An outlet on the water heater pan connects the pan to the sewage plumbing hookup for the installation location. If a leak appears in the water heater, the water drips down into the pan and is then carried away to the sewer system. A water heater drain pan can help prevent damage to the location of the house where it is installed such as a basement or crawl space.
Water Heater Location
One of the main factors in determining whether a drain pan is needed when replacing a water heater in Texas is the location of the hot water heater. Some Texas city or municipal codes, such as Dallas, require a drain pan during a replacement if the water heater is in a location where it could cause structural damage if a leak happens. In most cases, this will apply to water heaters setup in locations such as on the second floor or inside the dwelling. Many locations in Texas have water heaters installed in the garage. In such cases the installation of a drain pan is not needed.
Municipal Codes
With 254 counties and many more municipalities, local building codes determine the rules by which Texas homeowners must abide when installing a new or replacement water heater. Consult with the local government, either by checking its website or calling the building department office, to determine the codes and permits for your area.
Writer Bio
Nathan McGinty started writing in 1995. He has a Bachelor of Science in communications from the University of Texas at Austin and a Master of Arts in international journalism from City University, London. He has worked in the technology industry for more than 20 years, in positions ranging from tech support to marketing.
Photo Credits
Comstock/Comstock/Getty Images
Comstock/Comstock/Getty Images
More Articles