How to Clean Copper with Toothpaste
When newly made or minted, copper jewelry and coins have a shiny, attractive luster, but as these objects age, the luster fades and they start to look dull. You do not usually think of toothpaste as a copper cleaner, but if used properly, it makes dull, unattractive copper shine like new.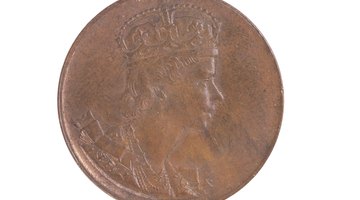 After you soak copper in water to remove loose debris, you can clean it with toothpaste and a toothbrush. This restores some of the copper's luster and leaves behind its natural patina.
Things You Will Need
Bowl
Liquid soap
Toothpaste
Toothbrush
Towel
Pour warm water into a bowl. Add a drop of dish soap. Place copper items in the bowl and let them soak. This removes loose particles. If your copper item is large and you cannot put it in a bowl, wipe it with a wet, soapy cloth.

Remove the copper items from the bowl and rinse them with clean water. Wet an old toothbrush.

Put a dab of toothpaste on the toothbrush or directly on the copper item. Scrub the item with the toothbrush.

Hold the copper item under a stream of water as you scrub it. Add more toothpaste if the copper isn't getting clean or it still looks dull. When you finish cleaning the copper item, rinse it with water and pat it dry with a towel.

Tip

You can also clean copper with vinegar, hydrogen peroxide or salt.
References
Writer Bio
Melissa King began writing in 2001. She spent three years writing for her local newspaper, "The Colt," writing editorials, news stories, product reviews and entertainment pieces. She is also the owner and operator of Howbert Freelance Writing. King holds an Associate of Arts in communications from Tarrant County College.
Photo Credits
Hemera Technologies/PhotoObjects.net/Getty Images
Hemera Technologies/PhotoObjects.net/Getty Images
More Articles