How to Get Stains out of a Vera Bradley Purse
Barbara Bradley Baekgaard and Patricia R. Miller founded the company of Vera Bradley in 1982. Since their company's conception, Vera Bradley purses have become a desired choice for women because of their function and appearance.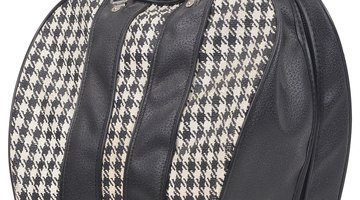 Things You Will Need
Water
Stain remover
Washing machine
Color-safe detergent
Because their signature collection handbags are constructed of all cotton, you can clean stains off the purses to keep them looking like new.
Gently blot the stain with water as soon as it occurs. This keeps the stain moist and allows you more time to apply the proper stain remover.

Remove all items and any hard sections in the purse, including the bottom piece used to keep the purse upright.

Apply a stain remover using the applicator that comes with the product. Choose one that is specifically recommend for use with cloth and colors, avoiding one that contains bleach. This will keep the colors on your purse pure and bright after the stain treatment. Follow the directions on the product and allow the purse to sit for the recommended time prior to washing.

Set your washer on delicate, and place only the purse in the machine. A machine without an oscillator is preferable because it will clean your purse gently. Add a small amount of color-safe detergent to the washer, and run the complete cycle using cool water. If you have a purse not part of Vera Bradley's signature collection, skip this step to avoid damaging the purse's other embellishments.

Place your purse on a flat surface to dry fully. Do not use the dryer to ensure the purse will not shrink.

Warning

Do not place your purse on the floor to avoid additional stains or spills.
References
Resources
Warnings
Do not place your purse on the floor to avoid additional stains or spills.
Writer Bio
Based in Texas, Lucie Westminster has been a writer and researcher since 1975. Her work has been published in journals such as "Psychological Reports" and "Journal of Verbal Learning and Verbal Behavior." Westminster's interests include developmental psychology, children, pets and crafting. She holds a Ph.D. in psychology from Miami University.
Photo Credits
Hemera Technologies/PhotoObjects.net/Getty Images
Hemera Technologies/PhotoObjects.net/Getty Images
More Articles