Inexpensive Ways to Add Color to a Concrete Mix
Gone are the days when homeowners had to be content with plain gray concrete not only on garage floors but also for walkways, patios and other concrete surfaces. Colorful additives make it possible to produce stunningly bright colors in a design of your choosing. However, some additives are more expensive than others.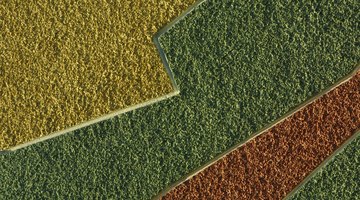 Liquid Colorants
A 10-ounce bottle of liquid colorant will tint a 60- to 80-pound bag of concrete mix for $5 to $10, as of October 2011. Liquid colorant is available in dozens of colors and is easy to mix; simply add it to a concrete mixer after the aggregate and water and before the Portland cement. Liquid colorants are concentrated, so they will produce rich colors in your finished product.
Latex Paint
Scour big-box stores and hardware stores for mistakes: Paint that was mixed incorrectly or returned and is usually sold at a discount. Add it to the mix in substitution for some of the water called for. Because the paint is not concentrated like liquid or powdered cement colorants, you will not get deep colors, but this method is ideal for producing subtle tints. Test this method before using it for a large project, because the color will be affected by the color of the concrete mix; for example, a gray concrete mix will result in a darker final color.
Dry Shake Color Hardeners
Dry shake color is often used by professionals in stamping concrete with various patterns. They sprinkle the concentrated powder over just-poured concrete or add it to the mix. Color hardeners are available in a wide range of colors at about $55 for a 60-pound bag, which will cover approximately 100 square feet. For just a hint of color, use less. For best results when mixing the dry product, add it to a mixer after the sand and cement, combine thoroughly, then add water.
Colored Objects
For a really inexpensive way to add unexpected interest and color to concrete, press objects such as marbles, bits of colorful tile, colored fibers, tumbled beach glass, coins or bottle tops into wet concrete just as it is being poured. Be on the lookout for any sharp pieces that will protrude from the finished job and press them in deeper.
References
Writer Bio
Patricia Rockwood has been a professional copy editor and writer for more than 25 years. She is an avid gardener with a certified Florida backyard habitat. Rockwood has practiced yoga for more than 40 years and taught for much of that time. She is also a professional mosaic artist.
Photo Credits
Photos.com/Photos.com/Getty Images
Photos.com/Photos.com/Getty Images
More Articles