How to Build Stained Plywood Kitchen Countertops
Stained plywood offers an economical alternative to expensive butcher block or tiled countertops. It can be prepared beforehand to make the staining process easier.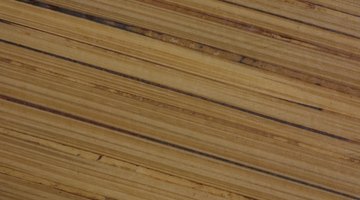 Things You Will Need
Circular saw
Measuring tape
Fine-grit sanding block
Wood stain
Stain applicators or paintbrushes
Clear polyurethane
Cordless screwdriver
Screws
Finishing strip
You can purchase high-quality plywood that has a grain pattern that is comparable to more expensive hardwoods; yet, because it's thinner and lighter than hardwood, it's easier to work with. This project takes approximately 12 hours to complete.
Measure the dimensions of the top of your base cabinet. If you wish to have an overhang, add the appropriate number of inches to your final measurements. Otherwise, for a flush installation, just use the width and length of the area.

Trim the plywood to fit with a circular saw. Draw the cut lines for your width and length. Feed the plywood through the saw slowly, or you will splinter the edges.

Sand down the cut edges with a fine-grit sanding block. They should feel completely smooth to the touch.

Sand the surface of the plywood. Your wood stain needs a slightly roughed-up surface to adhere properly.

Stain the plywood with your desired color of wood stain. Use a stain applicator and apply one thin coat to the plywood. Let this dry for at least four hours.

Sand the plywood again. Go over the surface lightly. If you will be adding more stain, you will need to sand after every coat.

Apply a clear coat of polyurethane over the plywood. This will protect the wood. Brush this coat on and let it dry for six to eight hours.

Center the plywood over the base cabinet. It helps to have someone hold it in place for you, or if you are working alone, you can clamp it into place.

Attach the plywood to the cabinet with a cordless screwdriver and screws. Insert your screws up through the base cabinet into the bottom of the plywood. Use screws that are shorter than the thickness of the plywood to avoid breaking through. For example, if the plywood is 1 inch thick, use 3/4-inch screws.

Finish off the edges of the countertop with a finishing strip. This is a flexible metal strip. Wrap it around the edges and screw it into place through the pre-drilled holes.
References
Writer Bio
Kate McFarlin is a licensed insurance agent with extensive experience in covering topics related to marketing, small business, personal finance and home improvement. She began her career as a Web designer and also specializes in audio/video mixing and design.
Photo Credits
Photos.com/Photos.com/Getty Images
Photos.com/Photos.com/Getty Images
More Articles