8 Ways to Maximize Space In Your Home
Living in a cute little dollhouse has its advantages: There's not much to clean, and you are always close to others in your family. But it is almost certainly lacking in the storage department. You don't need to move or rent a storage locker. You just need to find out how to tame your mountains of stuff.
Overview
Custom Closets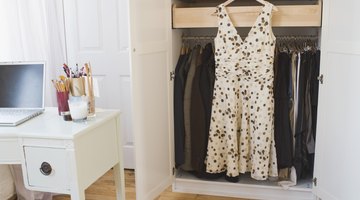 Customized closets co-opt wasted space under traditional rods for storage space. Rods are doubled up for shorter clothing pieces, giving you twice as much use out of the space. Built-in shelves line the walls, making a space for everything you own and keeping it right in sight. Bonus: It's a lot easier to get dressed.
Built-In Bookshelves
Interior designers commonly suggest built-in bookshelves because they look good and give a room depth. Bookshelves also, well, hold books. So if you have lots of them and want to have access to them, shelves are a must. Along with books, decorative pieces that tell who you are find a home here.
Hanging Handiness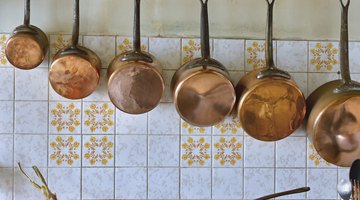 When you've got more walls than floor space, your best bet is to use hanging and shelving to your advantage. In the kitchen, hanging pots and pans and putting up shelving for spices and jars is not only aesthetically pleasing, but it also gives you more room to store your appliances and gadgets. Pick the right wood and metal colors for your hooks and shelves depending on the style and color scheme of your home.
Minimize Furniture Scale
Yep, lots of people think a sofa has to be long, deep and comfy. But if you have a smallish living room, and you plunk down a big sofa in the middle of it, well, you will have hardly any living room left. If a room is small, follow its lead and go small with the furniture.
Go Minimal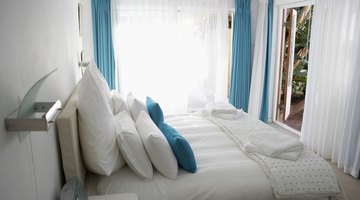 Many interior designers preach less is more. Maybe they were the source of that comment, and that's the reason it has landed in cliche territory. But less really makes sense when you are trying to visually stretch your space. Too many knickknacks, patterns and just stuff sitting around make the room feel too full and too small. So lighten up.
For The Media Maniac
If you're a home that values their Sunday night football and family movie nights, then a large TV storage unit is a worthy investment. Aside from holding your TV, these structures can store your DVDs, CDs, music players, gaming devices, books, and even your remote controls when you're not using them. A large TV stand is ideal for media organization, but it also helps to keep track of the trinkets around the living room and gives you a great place to put your TV -- the center of attention in any functioning living room.
Coffee Table Storage
Coffee tables are possibly the No. 1 opportunity for decorative storage. If yours is a wicker or antique trunk, you can hide magazines, DVDs, CDs and the like inside. It doesn't even have to be neat. Shut the lid and it's just your very interesting coffee table. Regular coffee tables with a shelf on the bottom also come in handy for magazines and decorative pieces, but these do have to be tidy as your goods are in plain sight.
Fill Everything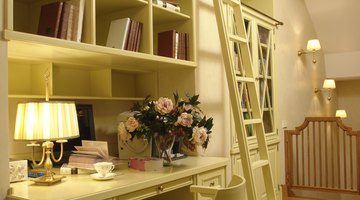 Sometimes the best storage is located in the nooks and crannies of your staple furniture. Utilize your desk space and shelf space above your desk for book storage, old photo album storage, and for a place to put gadgets and gizmos a plenty. Use this space for items you'll be using often since they're easy to get to.
References
Writer Bio
Suzanne Topham got her first newsroom job as an editor in the '70s. She spent most of her career at the St. Louis Post-Dispatch, where she was a copy desk chief for the features and national/foreign desks and a travel and style reporter. She also pioneered the position of A1 editor at the Post-Dispatch. She earned a Bachelor of Journalism from the University of Missouri.
Photo Credits
Aneese/iStock/Getty Images
More Articles