What Is the Rough Cost of Concrete Building Block?
Concrete blocks are a relatively inexpensive, durable building material. They hold up well in most climates and can be installed with minimal expertise. Concrete block costs vary somewhat according to the type of block, the distance from the manufacturer and the area where the block will be installed.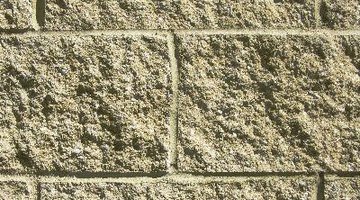 Learning the costs of basic building materials can help you make smart decisions about your next project.
Conventional Concrete Block
Most concrete building block come in an 8-by-8-by-16-inch size. According to the National Association of Home Builders, these blocks tend to cost around $1.30 per block. As of February 2011, Lowe's home improvement center offered single 8-inch concrete blocks at a price between $1.19 and $1.32 each. Buying in bulk can reduce the cost of your blocks.
Autoclaved Aerated Concrete
This material, also called light concrete block, includes a high percentage of air. This makes AAC much lighter than conventional concrete block and increases its insulation value significantly. AAC is less expensive to transport, due to its lighter weight, but can be difficult to find. The price per block also tends to be higher than conventional concrete. The National Association of Home Builders lists AAC block at around $3 for an 8-by-8-by-24-inch block, or $2.30 per square foot.
Split-Face Concrete Block
Split-face concrete block is a decorative block used to provide a look similar to that of stone. These blocks are split during production to create a rough surface. They come in a range of colors and textures designed to mimic natural stone. According to the NAHB, split-face block is uncommon in residential settings, due to availability problems. These blocks come in the same sizes as conventional concrete blocks, including 8-inch hollow units, as well as half-length, return corners and other sizes. The NAHB lists split-face block at around $2.30 per 8-inch block, or $2.59 per square foot.
Mortarless Brick Veneer
This unusual type of concrete block looks like brick, but doesn't require any mortar to install. Mortarless brick veneer blocks have a special interlocking shape that lets them connect to one another. These bricks must be screwed to furring strips on the wall sheathing and do not work as support elements. The main benefit of this material is its ease of installation, since almost anyone can put these blocks into place. Concrete mortarless brick veneer blocks also cost less than a conventional brick veneer. Mortarless brick veneer units can be as much as $7.00 per square foot, however.
References
Resources
Writer Bio
G.D. Palmer is a freelance writer and illustrator living in Milwaukee, Wis. She has been producing print and Web content for various organizations since 1998 and has been freelancing full-time since 2007. Palmer holds a Bachelor of Arts degree in writing and studio art from Beloit College in Beloit, Wis.
Photo Credits
Concrete Block Close-up image by Beanpole from Fotolia.com
Concrete Block Close-up image by Beanpole from Fotolia.com
More Articles