Residential Deck Handrail Building Requirements
Table of Contents
All building codes specifically address residential deck handrails. Although many variations exist among residential building codes, most agree on basic deck requirements. Note that a residential deck handrail has different requirements than a commercial or business handrail.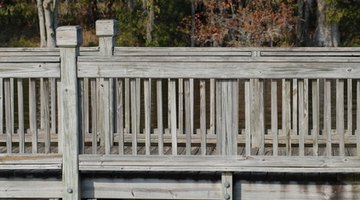 Only use these requirements for residential deck handrails.
When Required
A handrail is required when the finished floor of the deck is greater than 30 inches above grade. However, families with small children may want to have handrails on decks greater than 12 inches above grade, for safety.
Handrail Height
In single-family homes, the handrail must be 36 inches high from the finished floor of the deck to the top of the rail. Stairs on single-family homes require a handrail 34 to 38 inches above the stair, due to the slope of the stair. Multifamily homes require a guardrail that is 42 inches high with a 36 inch handrail. Multifamily deck stairs must have a 42 inch minimum guardrail, and the stair handrail can be between 34 and 38 inches.
Handrail Openings
The handrail openings must be less than four inches, except at the handrail base, which can allow an opening of six inches. Stair risers also must have openings less than four inches, except at an allowable six-inch opening at the base of the handrail.
Load Requirements
The handrail must be strong enough to resist failing under a 200-pound load exerted in any direction on the handrail. Some codes allow a 50-pound lateral load; however, modern materials and connections easily accommodate a 200-pound load, so build to the higher requirement.
Materials
Contemporary handrails can be composed of many different materials, including aluminum and steel pipe, PVC, and exotic hardwood. Home centers offer many handrail materials, but treat all lumber for exterior use.
References
"International Residential Building Code"; International Code Council; 2009
Resources
Writer Bio
Ryan Crooks is a licensed architect with 15 years experience in residential, institutional, healthcare and commercial design. Crooks is also an instructor, teaching architecture to high school and college students. He has written hundreds of articles for various websites.
Photo Credits
rails at dock image by jimcox40 from Fotolia.com
rails at dock image by jimcox40 from Fotolia.com
More Articles