Acrylic Vs. Stainless Steel Sinks
Table of Contents
When choosing between acrylic kitchen sink vs. stainless steel material for a bathroom or kitchen, there are a few things to consider. The wide variety of colors and shapes for acrylic make it an inexpensive choice that can offer a unique touch to your living space while stainless steel is timeless.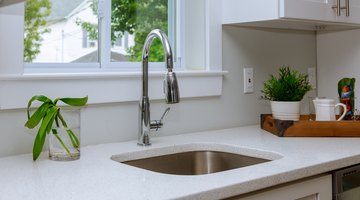 When looking for an affordable sink, it often comes down to an acrylic kitchen sink vs. stainless steel sink. Reliable, popular and easy to care for, these are two of the main materials used for kitchen sinks. Acrylic offers more styles and colors than stainless steel, and stainless steel is durable and nearly indestructible. Consider the acrylic kitchen sink's pros and cons, as well as the pros and cons for stainless steel sinks, before making your decision.
Acrylic Kitchen Sinks Pros and Cons
There are a few things to weigh when pondering whether to buy an acrylic sink.
The durable plastic acrylic is poured and molded to create the shape of the kitchen or bathroom sink. It is then reinforced with fiberglass. Acrylic is highly stain-resistant and easy to clean with nonabrasive cleaners and sponges.
The main advantage of acrylic for designers and those redesigning a kitchen or bathroom is that it is much more affordable with more stylish choices compared with stainless steel or other fixture materials in its category.
The many shades of acrylic allow you to brighten up a dull space, create a dramatic look with a black or dark shade sink or complement unique hues in baths and kitchens. The lightweight sink material is easy to install and can be mounted over or under the countertop edge.
They may seem hard as nails but acrylic sinks are actually made of soft materials that can get scratched or pitted fairly easily. This makes them much less durable than stainless steel. However, any nicks, cuts, light scratches or deep gouges can be sanded and polished out without ruining the surface of the acrylic sink.
Acrylic sinks don't handle extremely hot temperatures very well, so hot pans should not be placed on the sink's surface without some layer of protection. High heat can melt the surface, possibly cause discoloration and divots where the hot pan met with the surface of the acrylic sink.
Petroleum-based products don't react well with the polycarbonate material of the acrylic sink. When exposed to petroleum-based products, such as some waxes, lubricating oils, heating oil and other refined lubricants, the acrylic can be damaged irreparably.
Caring for Acrylic Sinks
To increase the life span of the acrylic sink, it needs to be properly cared for. It should last for many years with the right cleaners and techniques. Acrylic can chip and scratch, so don't use heavy scrapers or steel wool on the surface of the glossy sink.
For truly dirty sinks, fill the basin with warm water, add a capful of chlorine bleach and let it sit for a few minutes to remove layers of food, grease and grime. Drain the water and scrub away loosened food and dirt from the sides and bottom with a sponge. Rinse the sink well to remove any remnants of the chlorine bleach and towel dry for a glossy finish.
To maintain the acrylic's glossy appearance, wipe it down thoroughly after each use and place protective rubber racks or silicone mats along the basin bottom to protect the finish. This will keep hard water from forming white deposits on the surface as well as prevent any bits of food and debris from caking to the sides. Once a week, clean the acrylic sink with a soft, damp sponge with a few drops of liquid dish soap, rinse and wipe dry.
Benefits of Stainless Steel Sinks
Stainless steel is a popular material choice for kitchen sinks and is even making its way to the bathroom for its gleaming properties. Stainless steel sinks are easy to care for, affordable and easy to install. Stainless steel comes in a variety of thicknesses, also called gauges. The thicker stainless steel versions tend to cost more. However, the gauge doesn't make a difference in the performance of the material as a kitchen sink.
The low-carbon steel contains chromium at 10.5 percent or more by weight, which gives the material its unique corrosion-resisting and stainless properties. This chromium content creates an invisible corrosion-resisting chromium oxide film along the surface of the stainless steel. The large stainless steel basin can handle harsh commercial cleaners, such as bleach, to soak items without harming the finish as long as the exposure is temporary.
Disadvantages of Stainless Steel
Stainless steel comes in a pretty standard shape, while acrylic sinks can be molded into more interesting shapes to make an impact in the design of the bathroom or kitchen. They are much more durable than other sinks, such as porcelain, but can get scratched or marred by bleach, muriatic acid or other harsh abrasive cleaners that ruin the finish and make the sink vulnerable to rust. Stainless steel sinks can also be a bit noisier when dishes clatter on the metal surface. An undercoating on newer models of stainless steel sinks lessens the noise quotient and makes them more valuable.
Caring for Stained Stainless Steel
Stainless steel loves a good scrub, but it can typically be wiped down at the end of the day and not need much scrubbing on a regular basis. A drop of dish soap on a damp sponge rubbed around the edges and bottom of the sink once a week should be enough to keep the stainless steel sink clean.
If a cast iron pan is left on the surface of the stainless steel sink, then you may have a ring of rust around the bottom of the basin. Any rust stains that appear need to be dealt with immediately to ensure that the stainless steel doesn't corrode.
Rub a paste of baking soda and water in a mix of 4:1 into the stain and let it sit for a minimum of 15 minutes and up to overnight. It won't hurt the appearance or dull the gleaming stainless steel surface. Rinse the paste away with vinegar before rinsing the entire sink with water and wiping down with a dry, soft cloth.
Other Sink Considerations
Not all sinks are created equal or worthy of the countertops surrounding them. When purchasing and installing a kitchen sink, there are a few things to understand before sinking a basin in the countertop.
Replace the sink and the faucet to lessen issues with fittings and installation.
Many bathroom and kitchen sinks come with predrilled mounting holes for faucets. Make sure to match the hardware to the spacing and number of holes. Extra holes can be covered with a baseplate.
The material of the sink is more important than its manufacturer.
Surprisingly, D-shaped sinks with a flat back offer more space front to back compared with standard rectangular sinks.
Deeper bowls reduce splashing and can fit oddly shaped pots and pans.
Undermounted sinks are 1 1/2 inches lower than the top-mounted versions.
References
Writer Bio
Kimberley McGee has written for national and regional publications, including People magazine, the New York Times, Los Angeles Times, Las Vegas Review-Journal and more. The award-winning journalist has covered home decor, celebrity renovations, and sat down with reality HGTV stars to discuss the latest trends.
More Articles