What If My Sink Underside Is Unglazed?
Glaze not only gives sinks a smooth texture and clean, glassy appearance, but also forms a water-resistant barrier over the basin's ceramic body. Since the area beneath a sink rarely becomes wet, glazed underside's primarily perform a decorative function.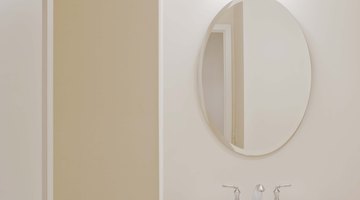 However, in certain installation circumstances, a sink with an unglazed bottom prevents your bathroom or kitchen from achieving a truly finished appearance. An understanding of the types of sinks that have glazes and appropriate installation circumstances helps you choose the right type of sink for your project.
About Glaze
Glaze is a shiny surface coating that protects a variety of ceramic materials, including pottery, wall and floor tiles and plumbing fixtures. Among plumbing fixtures, glaze is commonly applied to vitreous china materials. Vitreous china is similar to traditional ceramic materials, but fired after glazing at an extreme temperature to achieve a smooth, glass-like surface. Manufacturers often produce sinks and toilets with glazed vitreous china. Although these fixtures are durable, heavy impacts easily shatter or chip their glaze.
Partially Glazed Sinks
If your sink is glazed only on its top surface, then it's probably meant for installation in a countertop. Installed in a countertop, the bottom, unglazed portion of the sink is hidden from view and protected from moisture. Partially glazed sinks are available in both under-mount and top-mount models. Under-mount models often have an unglazed rim, which presses against the underside of the countertop. Top-mount sinks have a glazed rim and an unglazed underside. If your sink's underside is unglazed, you should consult your sink manufacturer's guidelines to determine the fixture's precise installation requirements. In most cases, the sink will mount to a countertop and you'll need to adjust your design to suit.
Fully Glazed Sinks
A sink that's glazed on both top and bottom is typically designed for an exposed installation location. Fully glazed sinks include pedestal sinks and wall-mounted lavatory sinks. Although the underside's glaze is primarily an aesthetic feature, it provides a small degree of protection from moisture and prevents bath and cleaning products from staining the underlying ceramic material. Just as partially glazed sinks usually lack the hardware and profile for installation in exposed locations, fully glazed pedestal and wall-mount sinks aren't suitable for installation in countertops.
Choosing the Right Sink
While glazed sinks are exceptionally popular in the bathroom, they're relatively rare in the kitchen. Glaze's susceptibility to cracks and chips from impacts makes it a risky choice in busy kitchens. Alternative kitchen sink materials include stainless steel, composite materials and enameled cast iron, which has the look the glazed vitreous china.
References
Writer Bio
Based in Hawaii, Shane Grey began writing professionally in 2004. He draws on his construction experience to write instructional home and garden articles. In addition to freelance work, Grey has held a position as an in-house copywriter for an online retailer. He holds a Bachelor of Arts in theater arts from Humboldt State University.
Photo Credits
Jupiterimages/Creatas/Getty Images
Jupiterimages/Creatas/Getty Images
More Articles