Apply Silicone Caulk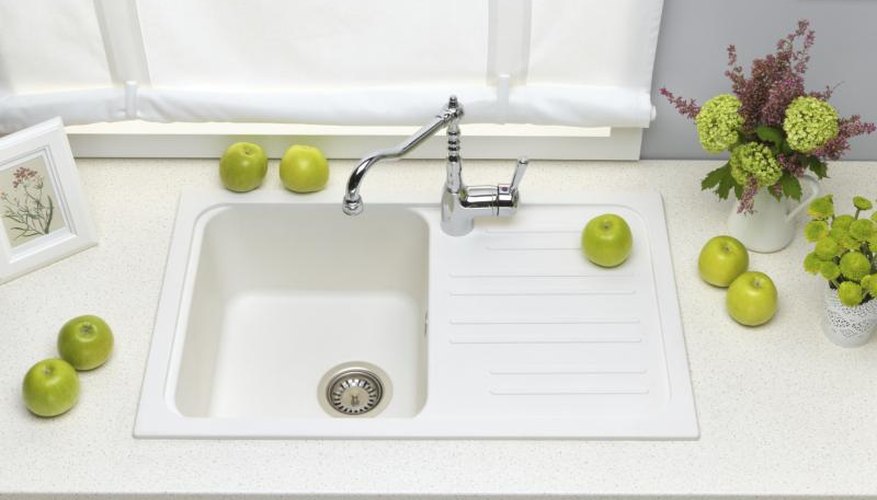 It works as an adhesive to help join the sink to the countertop. It also seals the rim of the sink to the countertop to keep water out of this frequently wet joint. Caulk is used for most types of kitchen sinks, include drop-in and undermount styles.
A silicone caulk bead application is often recommended by sink manufacturers to create a waterproof seal between the sink and the countertop. Apply caulk around the entire border of the sink's lip on its bottom surface. The silicone caulk covers cracks between the sink and countertop once the sink is attached. The Hammer Zone website recommends using a silicone caulk that is 100 percent silicone, not a silicone-acrylic latex blend, as 100 percent silicone caulk makes a better adhesive for sinks. Never try to wipe away excess silicone caulk. Instead, wait until the caulk has fully dried, then use a razor blade to cut away the excess.
Clear Choice for Kitchen and Bathrooms
Choose a caulk formulated for kitchens and bathrooms, as indicated by Ask the Builder. These caulks usually resist mold and mildew, which tend to grow in areas where moisture is present. You also want to use a clear caulk as opposed to a colored one, so the caulk is nearly invisible and does not detract from the look of your countertops. A clear caulk is especially important for use when installing undermount sinks where the caulk bead may otherwise be visible.
High-Strength Epoxies
When installing an undermount sink, Ask the Builder suggests using a high-strength epoxy to secure sink anchors to the countertop's underside. The anchors help hold the sink in place while the silicone caulk -- applied to the top rim of the sink -- dries, and they add strength to the sink-countertop connection. High-strength epoxies seal best when the underside countertop surface is entirely free of dust and debris.