How to Glue a Bathroom Sink to a Cabinet
Building or remodeling a new bathroom can be a fun, exciting, and challenging time. Getting everything coordinated to produce the look you want can be difficult. One of the primary items that has to get changed is the sink.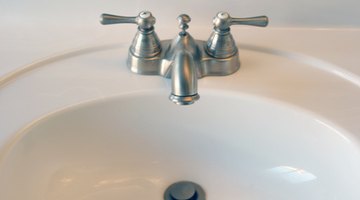 Things You Will Need
Level
Silicone caulk or construction adhesive
Rag
The sink can be one of the focal points in the bathroom depending on the rooms design, layout, and size. Securing a new or old sink to a cabinet only takes a few minutes.
Clean off the top edge of the cabinet. Set a level along the top to make sure the cabinet is level in all directions.

Apply a continuous bead of caulk along the top of the cabinet. Apply caulk only to areas that will come into physical contact with the sink. The bead should be as least 1/4 of an inch in height. Construction adhesive can be used instead of caulk, but please note that construction adhesive is very strong. If this sink ever has to be replaced again, the cabinet might not survive the sink removal. Construction adhesive would follow the same process as the caulk.

Set the new sink on top of the cabinet very carefully and apply gentle pressure on the sink to ensure good contact between the sink and cabinet. Use the level to verify that the sink is level.

Caulk around the edges of the sink and use an old rag to remove any excess caulk. Caulk is easy to remove when wet. Drag the rag across the caulk area while applying a gentle pressure.

Wait 24 to 48 hours for the caulk or construction adhesive to dry.
References
Writer Bio
William Kinsey lives in Concord, N.C. He started writing articles in March 2009, which have appeared on Autos.com and CarsDirect.com. He currently holds a Bachelor of Science in electrical engineering from the University of North Carolina at Charlotte and a Master of Business Administration from the University of Phoenix. He also has several years experience as an outside plant engineer and planner with AT&T. He also currently owns and operates Sophisticated Curves, an online fashion mall that caters to the needs of plus size women.
Photo Credits
sink and faucet image by MAXFX from Fotolia.com
sink and faucet image by MAXFX from Fotolia.com
More Articles